Faculty & Staff Achievements
USF Welcomes Professor Duane Rudolph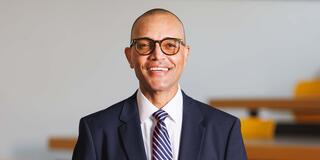 Born and raised in Zimbabwe, he obtained his BA in French and Portuguese at the University of Zimbabwe, then an MA and Ph.D. in Romance Studies, with a minor in gay and lesbian studies, from Cornell University, followed by a JD from Harvard University.
Rudolph is quick to express gratitude for the kindness and thoughtfulness of mentors who opened doors internationally, and remain inspirations in his professional journey. Lessons from his mother and grandmother to keep others' burdens in mind and to remember self-care continue as lifelong guiding lights. He cites these as examples of why USF's commitment to service, education, and human dignity resonate deeply with him. "I am drawn to the meanings of cura personalis in my own life and in the lives of those it is my calling to serve."
The germ of delving into law began to sprout while teaching French in Hawaii when a colleague noted that Rudolph's questions were increasingly about the law. Rudolph recalled being "struck by the collapse of the rule of law" in Zimbabwe, the packing of courts, which injured that nation's economy. "It brought home the impact of a legal system; when undermined, people suffer."
His academic work has focused on the rights of women, religious minorities, those with disabilities, and organized labor in American torts and remedies law, favoring "the inherent human dignity of marginalized and disenfranchised" litigants. "We're all in it together, whoever we are, wherever we are," Rudolph observes. "We're very similar despite the many barriers we build to shield ourselves from each other."