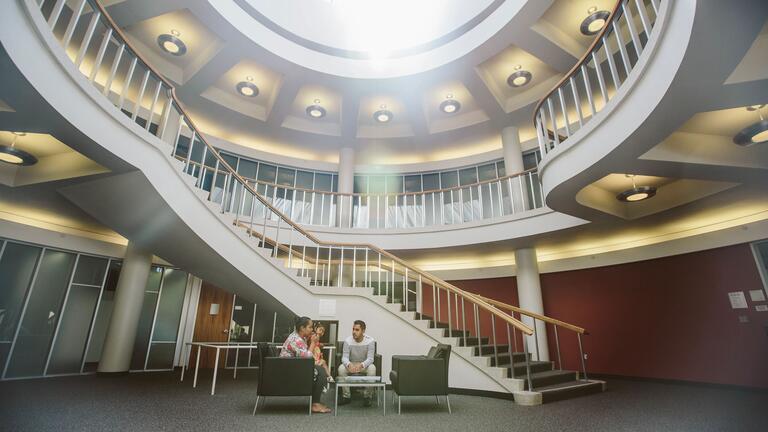 Passion for Justice
Twenty-Five Years after his Wrongful Conviction, University of San Francisco School of Law Professors and Racial Justice Clinic Students Lead Successful Effort to Exonerate Leon Benson
Benson is the first person exonerated by the Marion County (Indiana) Prosecutor's Office Conviction Integrity Unit
SAN FRANCISCO (March 9, 2023) – Leon Benson spent more than half his life — 25 years — in an Indiana state prison, with eleven of those years in solitary confinement. After a joint re-investigation effort by University of San Francisco (USF) School of Law professors Lara Bazelon and Charlie Nelson Keever, alongside USF Racial Justice Clinic students, he is now the first person to be exonerated by the Marion County (Indiana) Prosecutor's Office Conviction Integrity Unit.
"All too often, prosecutors wield their power to cement wrongful convictions and entomb the innocent," said Bazelon. "We are gratified and relieved that the Marion County Prosecutor's Office appreciates that nothing is more important than rectifying a past wrong. Leon Benson and his family have been victimized by the system for 25 years. Today, with Leon's exoneration for a brutal murder he did not commit, they finally got justice."
On March 8, 2023, Leon Benson's first-degree murder conviction was vacated by Marion County Superior Court Judge Shatrese M. Flowers after a joint re-investigation by the USF School of Law Racial Justice Clinic and the newly established Conviction Integrity Unit of the Marion County Prosecutor's Office revealed that significant evidence buried deep in the police file by the lead detective pointed to another man as the real shooter.
At approximately 3:30 a.m. on August 8, 1998, Kasey Schoen was shot five times execution style while seated in his car which was idling at the curb on the 1300 block of North Pennsylvania Avenue in downtown Indianapolis. Schoen was white, the suspect was Black. No murder weapon was recovered and no fingerprints, DNA, or other forensic evidence linked Benson to the crime.  Although several witnesses placed Leon Benson inside a building across the street when the shooting occurred, and multiple leads pointed to another suspect, Joseph Webster, Indianapolis Metropolitan Police Detectives zeroed in on Benson after Webster, who was facing unrelated criminal charges at the time and represented by an attorney, declined to be interviewed by police.
The case against Benson rested on a cross-racial identification made in the near darkness from 150 feet by a frightened white newspaper carrier, and the equally questionable identification by a man from the neighborhood with a history of mental illness and who held a grudge against Benson. Another man, Dakarai Fulton who knew Benson and Webster personally and also witnessed the murder, told detectives Webster was the shooter. Benson's lawyer failed to call Fulton at trial or present any meaningful defense. The lead detective excised almost all of the information pointing to Webster as the actual shooter from the file he provided to the Marion County Prosecutor, including a tip from a confidential informant stating that yet another eyewitness saw Webster "shot [c] white guy in the head" and listing the names of people that Webster had bragged to about it afterwards.
The collaborative investigation between Benson's defense team, led by Professors Lara Bazelon and Charlie Nelson Keever and their law students, and Kelly Bauder, the co-director of the Conviction Review Unit, revealed that this evidence and other buried evidence pointed convincingly to Webster, that the second eyewitness was not in a physical location that would have allowed him to see the shooting. Other witnesses came forward who also implicated Webster, but didn't tell the full truth at the time of trial because he bribed, threatened, or intimidated them.
On March 9, Leon Benson walked free from the Indiana state prison where he had spent more than half of his life. Dressed all in white, Leon strode out to loud cheers from his family, attorneys, and friends who had gathered outside to welcome him home. "Truth never dies," he declared. "It is only rediscovered."
For Information:  
Lara Bazelon: (310) 663-7105
Charlie Nelson Keever: (310) 738-9663
---
About the USF School of Law
Founded in 1912, the University of San Francisco School of Law has a tradition of educating effective lawyers who graduate with the professional skills and theoretical foundation necessary to succeed in the legal profession. The USF School of Law offers a rigorous education with a global perspective in a diverse, supportive community. Our graduates are skilled, ethical professionals prepared for any legal career — from intellectual property law to litigation and more — with a commitment to social justice as their enduring foundation. The USF School of Law offers full- and part-time Juris Doctor programs that empower students to develop their analytical abilities, master legal writing and research skills, acquire a firm foundation of basic law, explore an array of specialties, and refine their professional legal skills in practical settings. The law school also offers Master of Laws (LLM) programs in Taxation, Intellectual Property and Technology Law, and International Transactions and Comparative Law (for foreign lawyers), and a Master of Legal Studies in Taxation (MLST) for non-lawyers. The USF School of Law is fully accredited by the American Bar Association and is a member of the Association of American Law Schools. For more information, visit usfca.edu/law.
About the University of San Francisco
The University of San Francisco is a private, Jesuit Catholic university that reflects the diversity, optimism, and opportunities of the city that surrounds it. USF offers more than 230 undergraduate, graduate, professional, and certificate programs in the arts and sciences, business, law, education, and nursing and health professions. At USF, each course is an intimate learning community in which top professors encourage students to turn learning into positive action, so the students graduate equipped to do well in the world — and inspired to change it for the better. For more information, visit usfca.edu.