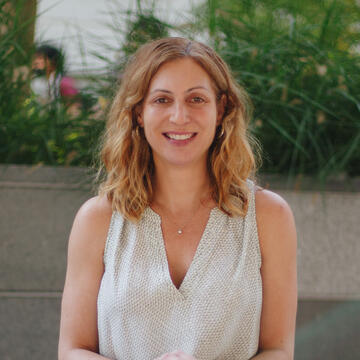 Lara Bazelon
Phillip and Muriel C. Barnett Chair in Trial Advocacy, Director of the Criminal & Juvenile Justice and Racial Justice Clinics and Associate Dean for Faculty Scholarship
Associate Dean
Full-Time Faculty
Biography
Lara Bazelon is a professor of law and the director of the Criminal Juvenile Justice and Racial Justice Clinical Programs at the University of San Francisco School of Law. From 2012-2015, she was a visiting associate clinical professor at Loyola Law School and the director of the Loyola Law School Project for the Innocent. Professor Bazelon was a trial attorney in the Office of the Federal Public Defender in Los Angeles for seven years. Prior to that, she was a law clerk for the Honorable Harry Pregerson on the United States Court of Appeals for the Ninth Circuit.
Professor Bazelon is a contributing writer for Slate and Politico Magazine, where her long-form journalism and opinion pieces appear regularly, including a long-running series in Slate on issues arising from wrongful convictions. Her essays and op-eds have also been published in the New York Times, Washington Post, Atlantic, San Francisco Chronicle, and Los Angeles Times.
Professor Bazelon is the recipient of a writer-in-residency award from the MacDowell Colony in 2016 and from Mesa Refuge in 2017, where she was named the Jacob and Valeria Langeloth Fellow for excellence in writing about issues relating to the criminal justice system.
Expertise
Advanced Legal Writing
Clinical Education
Criminal Procedure
Ethics
Habeas Corpus
Trial Advocacy
Wrongful Convictions
Education
New York University, JD
Columbia University, BA
Prior Experience
Visiting Associate Clinical Professor, Loyola Law School
Director, Loyola Law School Project for the Innocent
Clinical Fellow, UC Hastings College of the Law
Deputy Federal Public Defender, Los Angeles
Law Clerk, Honorable Harry Pregerson
Awards & Distinctions
Davis Vanguard Justice Award - The award was given to the Racial Justice Clinic for our work with the district attorney's office exonerating the wrongfully convicted and resentencing the excessively sentenced (2021).
Senior Fellow, Schuster Institute for Ethics and Investigative Journalism (2016-2019).
Mesa Refuge Writer-in-Residence and Langeloth Fellow (June 2017).
MacDowell Writer-in-Residence (March-April 2016).
Black Women Lawyer's Association of Los Angeles Community Service Award (2014) (accepted on behalf of the Loyola Law School Project for the Innocent for the exoneration of Kash Delano Register.
Aleph Institute Award of Distinction (2012).
Books
Systemic Racism: Defining Terms and Evaluating Evidence, ed. Trevor Shelley, Lexington Books, (Forthcoming)
"David Simon Made Baltimore Detectives Famous. Now Their Cases Are Falling Apart. Has reality caught up to the "Murder Police"?." In Evidence of Things Seen: True Crime in an Era of Reckoning (Ecco/HarperCollins), ed. Sarah Weinman. (Forthcoming)
Ambitious Like a Mother: Why Prioritizing Your Career is Good for Your Kids (Little, Brown Spark, April 2022)
Rectify: The Power of Restorative Justice After Wrongful Conviction (Boston, Massachusetts: Beacon Press, October 2018)
Law Review and Journal Articles
"Providing Assistance and Promoting Justice," 17 California Legal History 27 (2022)
"History in the Making: The University of San Francisco Racial Justice Clinic," 17 California Legal History Journal 27 (2022).
"David Simon Made Baltimore Detectives Famous. Now Their Cases Are Falling Apart. Has Reality Caught Up to the "Murder Police"?," New York Magazine (2022).
"Restorative Justice From Prosecutors' Perspective," Fordham Law Review (2020).
"Victims' Rights from a Restorative Perspective," 17 Ohio State Journal of Criminal Law (forthcoming 2020). (co-authored with Bruce Green) Victims' Rights from a Restorative Perspective SSRN
"Ending Innocence Denying," 47 Hofstra Law Review 393 (2018). Ending Innocence Denying SSRN
"The Long Goodbye: After the Innocence Movement, Does the Attorney Client Relationship Ever End?," 106 Journal of Criminal Law & Criminology 681 (2017). SSRN
"For Shame: The Public Humiliation of Prosecutors by Judges to Correct Wrongful Convictions," 29 Georgetown Journal of Legal Ethics 305 (2016).
"Hard Lessons: The Role of Law School Clinics in Addressing Prosecutorial Misconduct," 16 Berkeley Journal of Criminal Law 388 (2011).
"Putting the Mice in Charge of the Cheese: Why Federal Judges Cannot Always Be Trusted To Police Themselves and What Congress Can Do About It," 97 Kentucky Law Journal 439 (2009).
"Exploding the Superpredator Myth: Why Infancy is the Best Defense in the Modern Juvenile Court," 75 NYU Law Review 159 (2000). (Recipient, Paul D. Kaufman Memorial Award for best student Note)