Equipped to Lead and Succeed
Tucker Cottingham '11 Bridges Tech and Law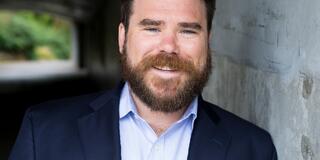 Tucker Cottingham '11, the founder of legal technology platform Lawyaw, doesn't think law and technology have to be two separate worlds.
In fact, Cottingham believes USF and its students have a "huge opportunity" to lead the way in making legal services higher quality and more accessible by embracing technology.
"I think USF is well-positioned to embrace this massive, once-in-a-lifetime transformation of the legal industry, one of the largest industries in the world," Cottingham says. "We're right in the heart of it in the Bay Area."
Cottingham's company Lawyaw simplifies document creation through cloud-based templates, allowing lawyers to use time that they'd otherwise spend on repetitive tasks on the complex parts of their cases.
"We're the engine behind the scenes that can streamline a lot of these workflows," he said.
Legal professionals in more than 35 states are collectively generating 40,000 legal documents per day using Lawyaw, according to Cottingham. This growth culminated earlier this year when the company was acquired by Clio, the largest legal practice management provider in the U.S., in what was their biggest acquisition to date.
Jess Gupta '11, who has followed Cottingham's career from law school until today and was an early investor in and advisor to Lawyaw, said Cottingham's success shows that flourishing startups can come out of law school as well as business school.
"It cuts against the stereotype of lawyers as too risk-averse or lacking business acumen," Gupta said. "In Tucker's case, here's an attorney who decides he wants to start a cloud software company. Within a year his product is not only helping to solve real problems, it's earning real revenue and turning the heads of VCs who thought it wouldn't work."
Entrepreneurial by Spirit
Cottingham has always been entrepreneurial. A Kentucky native, he started a business selling motor scooters when he was 12 years old. A classics major at Kenyon College in Ohio, he made the move to California in 2008 to attend USF Law.
Cottingham says in addition to the network USF Law provided — Andreas Becker '11 and Justin White '11 are both on the Lawyaw team — the school gave him a key understanding of loving problems instead of solutions. He said law school does a good job of "getting you used to that feeling that it's going to click, to just keep going at it."
"I think the work ethic you learn in law school is incredibly helpful for life."
After graduating from USF, Cottingham worked as an associate doing complex litigation before joining San Francisco-based Bend Law Group, a transactional law firm focused on helping startups and small businesses. It was there that he first got the idea to try to streamline document creation. He noticed that lawyers were doing the same things over and over again for similar clients, and their workflows were "fragmented, inefficient and repetitive."
"I saw this really interesting intersection where we could help people get access to legal services by enabling lawyers to be more efficient without sacrificing quality," Cottingham said. "That seemed like a really powerful opportunity."
Seizing that opportunity, in 2017 he created Lawyaw and was accepted to the coveted Silicon Valley based incubator Y Combinator.
The company's first big initiative was focused around criminal expungements. Cottingham said only a very small percent of the millions of people who are eligible to have criminal records removed from their history go through the expungement process, because it is extremely complicated. To streamline the process, Lawyaw partnered with background check company Checkr to connect people with a lawyer who could help clear their record using Lawyaw's software.
Gupta noted that the expungement effort was a brilliant first stroke for the company, accomplishing three things: It gave the company lots of quick user feedback; it created user testimonials to attract more investment; and it provided a powerful tool to help with a problem that no one else was addressing.
"I think it was -apparent to everyone in our 1L section that Tucker had a strong entrepreneurial streak," Gupta said. "He was always pitching business ideas and seeing opportunities, but very few people can turn that into a viable company. What amazes me to this day is how brilliantly Tucker executed on the Lawyaw vision from day one."