Campus Life
Students Move to Campus, Start Their Dreams
They tell why they chose USF
When first-year students moved into their residence halls on Aug. 13, we asked them what attracted them to USF — and asked their families for parting advice.
Image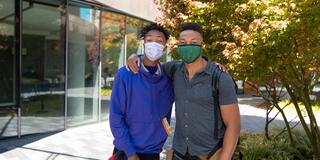 Keon Hetherington, an entrepreneurship and innovation major from Chicago, said he is at USF for the city of San Francisco and its networking opportunities. "Also, I like that the entrepreneurship and innovation program is hands-on — and it's collaborative instead of competitive."
Keon's brother, Kareem (right), gave Keon this college advice: "Be proactive instead of reactive. Be aware of the resources available to you."
Image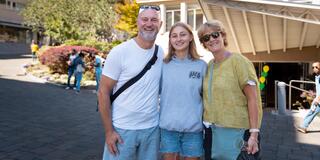 Jessie Cobban, a psychology major from Portland, Oregon, said she chose USF for its location in the city, for its size, and for the psychology program. "In my major, you have a choice of tracks you can take. You can tailor the major to your interests."
Advice from Jessie's father, Dave Cobban: "Embrace the adventure. Embrace the whole experience, even the parts that make you scared or nervous."
Advice from Jessie's mother, Sue Harrison: "Say yes to everything. Well, almost everything."
Image
Larry Wesley, a politics major from Washington, D.C.: "The diversity on campus. The city of San Francisco."
Axel Ndombasi, a computer science major from Democratic Republic of the Congo: "The opportunities in San Francisco."
Sylvia Rubuye, a biology major from Democratic Republic of the Congo (she and Axel went to high school together): "The diversity. The city. And my sister goes here!"
Image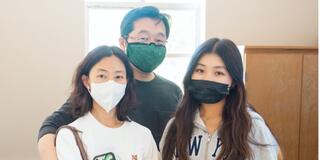 Jiyu Park, an aspiring surgeon from San Francisco, said she is here for the biology program. "It's detailed, challenging, and oriented to pre-med."
Her mother, Sujin: "We're very proud of you." Her father, John: "Enjoy life at USF!"
Image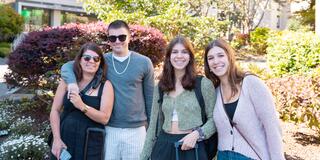 Talulah Freed (second from right), an art history and museum studies major from Albuquerque, New Mexico, said, "My brother, Sam ['20], went here. He recommended USF. I'm here for art history, for the city, for the ocean, the natural beauty."
Image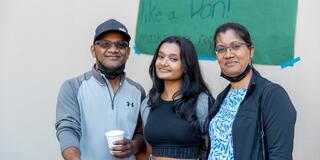 Aarane Srikumar, a kinesiology major from Livermore, California, gave three reasons: "The kinesiology program is highly ranked. I've always loved the city. I took a campus tour and felt at home here."
Aarane's father, Sammy: "Enjoy the city!"
Aarane: "Take care of our dog!"