School of Education Students Fill a Need in Mental Health Care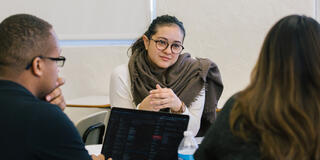 USF graduate students in school counseling programs are getting hands-on experience in Bay Area schools and community clinics while providing support during a shortage of mental health professionals.
"There is a large need and there are just not enough counseling professionals to go around," said Erin Serrano MA '23. She is interning as a college counseling assistant at Independence High School in San Jose. She works with seven to 10 students, counseling them on academics, social and emotional needs, and college applications.
"I enjoy the small group counseling [and] the one-on-one time where you really get to know the students," Serrano said.
What's Behind the Shortage
The need for school counselors, therapists, social workers, psychologists, and psychiatrists is greater than ever, according to a 2022 report by CalMatters, a nonpartisan news organization. Pressures from the pandemic, economic concerns, and worries about wildfires, school shootings, and racism have pushed many Californians to seek help.
At the same time, mental health professionals report being burned out and are leaving the field, creating a shortage of caregivers.
For children, the shortage is especially serious, as schools work to recover from the pandemic. School counselors in California report caring for an average of 527 students, according to the American School Counseling Association. The recommended ratio is 250 students per counselor.
"Last year, the U.S. surgeon general urged us to acknowledge, better understand, and address the mental health crisis among youth in our nation," said Dean Shabnam Koirala-Azad of the School of Education. "I am grateful to our faculty and students who are not only taking action to address this pervasive need but are also uniquely prepared to navigate the multiple pandemics confronting us while working to create a more humanizing sense of wellness."
Students Put Learning Into Practice
Students in the counseling psychology department, specifically the Marriage and Family Therapy and the School Counseling programs, work at multiple internships during their programs. Most serve populations where the mental health service gap is prevalent, Koirala-Azad said.
Erika Maria Hapa MA '23 is pursuing a degree in counseling psychology with a dual concentration in school counseling and professional clinical counseling. During her first year, she interned at Westlake Elementary School. During her second year, she interned at San Francisco's Gateway High School and was also a trainee at the Daly City Health Center, providing mental health counseling.
"We were meeting with people on waiting lists at both places," she said. "At the same time, we were getting a ton of experience in the classroom, talking about the material and role playing. We were given some freedom to take what we were learning in the classroom and put it in practice."
That's the goal, said Professor Leyla Pérez-Gualdrón.
Pérez-Gualdrón says the state is expected to provide more funding in the coming year to help alleviate the shortage of mental health professionals. In the meantime, she said, it's a good time to re-envision how schools can make mental health services better and more accessible to all communities.
Socio-emotional learning and mental health promotion in schools should also be integrated with social justice, cultural strengths, and critical race theory perspectives in addressing inequities related to mental health, Pérez-Gualdrón said.  
"It's a moment for us to reflect on the current practices, and it's such an opportunity to bring change to the counseling field."