Student Sees the Public Library as an Instrument of Justice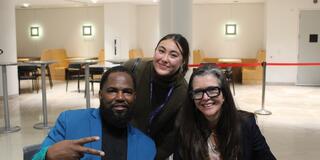 Sadie Mills' fellowship at the San Francisco Public Library (SFPL) took her beyond books and connected her to a new passion — the prison justice reform movement.
Mills '23 was a McCarthy Fellow last fall with the Leo T. McCarthy Center for Public Service and the Common Good, working at the SFPL.
"My time at the library was beyond rewarding," said Mills, a double major in marketing and entrepreneurship and innovation. "Libraries are gems in our community. They're one of the only government resources that don't require paperwork or have any obstacles. You can walk in and have free access to technology and books for education or enjoyment or escape."
During her fellowship, Mills developed and executed marketing strategies for the library's events and exhibits, with a focus on the 2022 One City One Book campaign featuring This Is Ear Hustle by Nigel Poor, a Bay Area artist, and Earlonne Woods, whose life sentence in San Quentin State Prison was commuted in 2018. The book was inspired by Poor and Woods' podcast that reports the daily realities of life inside prison.
Mills said "it all clicked" when she learned about the featured book. Not long before starting her fellowship, she got involved with No More Tears, a collaboration between people serving time in San Quentin and people in the community. The co-founder of No More Tears, Lonnie Morris, became a mentor and friend, and he was involved with the Ear Hustle podcast. Mills' experience with One City One Book solidified her commitment to advocating for the incarcerated community.
"My experience at the library taught me a lot about understanding community," she said. "What I'm going to carry with me on my career path is how I can foster accessibility and build community in whatever it is that I'm doing."
The One City One Book campaign also gave Mills an opportunity to flex her marketing skills. She managed a weekly newsletter that reached 300,000 people, wrote press releases, and organized a multi-channel social media plan to encourage people to read This Is Ear Hustle and attend the One City One Book main event. She also accompanied the Ear Hustle team, which produces the podcast, on their book tours to all 28 branches around the city.
"Sadie was a dream to work with," said Kate Patterson, SFPL's director of communications, who supervised Mills' fellowship. "She came with a very robust toolbox of skills so she could hit the ground running with very little hand-holding. She was very creative and significantly enhanced our promotional efforts, and her excellent work and maturity quickly garnered the trust of the This Is Ear Hustle team, too."
Mills is currently working as a marketing research assistant for a woman-owned small business that has offered her a job after she graduates.
"My passions lie in community organizing and utilizing my privilege to uplift communities, and I want to contribute to bridging the gaps of disparities," she said. "As a marketing major with a love for community and organizing, this McCarthy Fellowship experience has shown me the beauty of how my passions and skills can align."