Engaged Learning
Data Science Graduates Turn Information into Action
They use numbers to improve medical care and keep families together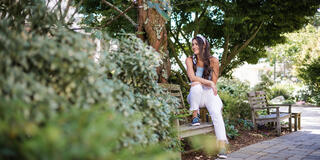 When Danielle Savage looks at her computer screen, she sees data. But she also sees thousands of children whose lives she can improve.
She's identifying ways to keep children out of the foster system and stay with their families. It means asking the right questions, considering driving factors from all angles, and looking at data in new ways.
Savage MSDS '18 is one of several alumni from USF's Master of Science in Data Science (MSDS) program who are using data science to serve the common good. A senior data science fellow at Foster America, she works to improve the lives of foster children and transform the child welfare system.
"I am able to bring data science into a field where it's incredibly underutilized," said Savage, who worked for First Republic Bank for a few years before following her passion to nonprofits. "I get to use data to help lift up families and communities so they can thrive instead of having to maneuver the child welfare system."
On one project in Santa Clara County, Savage learned that the more access to health care a family has, the less contact they have with the Department of Family and Children's Services. This led to Foster America, community organizations, and government agencies to make policy decisions that help keep more children healthy and at home with their families.
Science in the Public Interest
USF is one of the first data science programs to require a data ethics class, which covers topics like privacy and algorithm fairness. A weekly speaker series, co-sponsored by USF's Data Institute and Craig Newmark, founder of Craigslist and Craig Newmark Philanthropies, brings to campus speakers working in various industries, including the nonprofit sector. Scholarships, such as the Schmitt Family Foundation fellowship and Wicklow AI Medical Research Initiative fellowship, support students working for nonprofits and focusing on environmental justice, human rights, and medicine.
USF also places students at internships with tech companies, research organizations, and many nonprofits, including ACLU, YLabs, Boston Children's Hospital, and Metropolitan Transportation Commission.
"Our program exposes our students to work opportunities and projects for social good through their classes, internships, and seminar series so they can see the impact data science can have on our society," said Diane Woodbridge, associate professor and academic director of the MSDS program, which was ranked fourth best master's in data science program by Fortune in October.
Data as a Path to Progress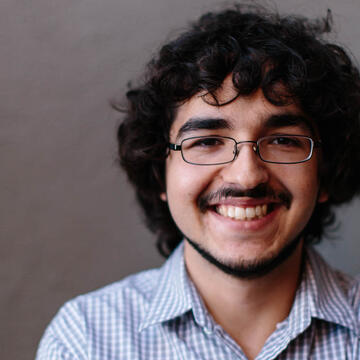 As a USF student, Cameron Carlin MSDS '17 interned at BART, where he worked on ridership forecasting to help the transit system understand new usage changes at night and on weekends. He's now a data science manager for City of Hope, a cancer treatment and research center in Southern California.
His latest projects feed real-time patient information acquired by machine learning models directly into medical records, so doctors and nurses can provide the best care possible to patients. Right now, they're focusing on sepsis risk, surgical complications, and a 90-day mortality rate.
"Data science has historically been detached from the clinical care process, but I go to bed at night thinking that I'm honestly making a difference and working toward a future where we're improving the patients' quality of care and their clinical outcomes," said Carlin.
The MSDS program provided Carlin with the background and industry knowledge he needs to perform his best. "I absolutely would not have gotten to where I am in my career today without my USF data science degree. Other programs I considered weren't as applied and didn't have the same connections in industry I wanted."
Savage, who as a student interned at the waste management company Recology, said, "Quant-based research is what I love. I need programming and statistics skills to do that, and what's so special about USF's master's program was that it not only taught me those technical skills, but also how to understand the context of the data and leverage that in my analysis. It is that context that truly makes the work valuable and efficient."