Equipped to Lead and Succeed
Students and Employers Talk Jobs on the Hilltop
They exchange resumes and career tips in a post-pandemic gathering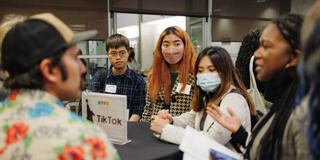 For the first time since 2019, students and employers converged on campus Nov. 17 for an evening of speed networking.
This year's lineup of employers: 2K, Amazon, AT&T, Cruise, Dolby Labs, Google, Pixar, San Francisco Giants, Sephora, Tesla, TikTok, and Visa.
"At our Big, First, and Foremost event, USF alumni and recruiters from top local companies meet with students to discuss jobs and internships and company cultures," said Stephanie Belfiore, assistant director at the Career Services Center. "Every 10 minutes, we ask the students to rotate and talk with a different company."
Students Explore
Chase Darden '24, a media studies major and journalism minor, said he attended the event to "ask the Giants about community relations and media relations, and to ask Amazon about their new way of interacting with the licensing rights with NFL and Thursday Night Football."
Owen Sordillo '25, an entrepreneurship and innovation major, went to "meet new people and figure out what I want to do with my future," he said. He met with Max Eunice '21, who works at Cruise. "I'm excited to experience self-driving cars and hopefully find a way to work with them in the future," Sordillo said.
Apurva Aluru '24, a double major in computer science and marketing, said that it's important for her to "connect with people who are actually working at these companies. I connected with Sephora, Visa, Dolby, and Google — and I had an interview with Google."
Graduates Engage
Four USF graduates who represented their employers at the event gave advice to students.
Diana Guardado '15, a department manager for feature films at Pixar, said, "The Career Services Center helped me get to where I am, so I really recommend you reach out to them."
Sachi Popov '20, a recruiter at Tik Tok, said, "Make sure your LinkedIn page and your resume are looking good."
David Dully '12, a senior product manager at Dolby Laboratories, said he was glad to come to USF and "give back to the school that set me on the career path that I'm currently on. Had I not transferred to USF, I wouldn't have found myself in San Francisco and ultimately at the company that I've been with for the past decade."
Aaron Rothman, MBA '02, a principal executive recruiter at Amazon, said he was at the event "because Julia Hing at the career center is awesome, and also I'm here because I know how hard it is to come out of college and look for a job in a down market, so hopefully I can impart some of my experiences and help folks."
Alumni Encourage
Asked what sets USF students apart from other job seekers, Dully said that "going to school in the city teaches you a lot about diversity of opinions and about how that can bring fresh viewpoints to old problems." Also, "USF students are passionate about more than just business; they're passionate about making change in their communities, and I think that has a lot of value for organizations as well."
Rothman said that USF students, educated in the liberal arts, "are pretty versatile with the types of things they learn, so they're open-minded about work that they might do and they're willing to get out there and network and explore, which is good. It takes work to find a job."
Rothman's advice to his younger self at USF?
"Study what you enjoy, then work at a place that you like. Even if it might not be the exact job that you wanted, that's OK. Just do something that you like with people you like, and the jobs will come."