Equipped to Lead and Succeed
USF Grad Catches a Ride Into the Future
He landed his dream job just after graduation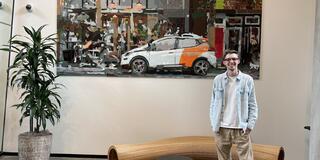 In December 2021, just two weeks after graduating from USF with a BSBA in marketing, Max Eunice '21 landed a full-time job in marketing with Cruise, an autonomous car company based in San Francisco.
How did he manage that?
"USF is in the heart of somewhere that let me do what I want," he said. "I got an on-campus job my first semester and kept my eye out for new opportunities constantly."
Eunice loves working at Cruise. "It's exciting because they've been working for years on building these cars and I came in at the moment where we're transitioning from build the thing to get people in the thing," he said.
Cruise is just like any other ridesharing app — except there's no one in the driver's seat, said Eunice. "From my perspective, that's where value gets added. I'm a queer person and when I get into a ride I sometimes feel very uncomfortable. There have been times when it's clear that a driver is not happy about who I am or they're listening to conservative radio that makes me feel like I can't be myself."
If you want to land your dream job, try what Eunice did.

1. At USF, find your passion and pursue it.
"I didn't only want to learn how marketing worked in a classroom, textbook sense, but also in the go do it, try it sense," Eunice said. "I wanted to do both at once."

2. Land a job on campus. Ask questions.
"The biggest life hack being at USF is working at the career center. You get the inside scoop about the value of networking from the counselors and staff."

3. Go to career fairs and apply for jobs.
"I found a job at the San Francisco Gay Men's Chorus through the career fair on campus. I also worked at CBS Interactive."

4. Land an internship or three.
"I applied for an internship at Cruise the summer before my last semester at USF. I got informational interviews with some of the team by reaching out on LinkedIn, used what I learned to help my interviews, and got the job."

5. Network with people at your place of work.
"I started off as a communications intern at Cruise, doing PR and media. But then I realized, I'm a marketing major; I want to do marketing. I made sure to meet the rest of the team, and I learned that there were some projects I could be working on on the marketing side of things too. The team was only about 25 people when I started, so I had the freedom to move around and try different things."

6. Parlay your internship into a part-time job and then into a full-time job.
"I went from full-time communications intern during the summer, to a part-time marketing associate intern in my last semester, and then in January I converted to a full-time role in marketing."