Engaged Learning
Steady Leadership in Unprecedented Times
Meet the new associate dean for academic affairs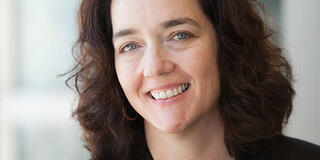 Professor Amy Flynn, the School of Law's new associate dean for academic affairs, is no stranger to turbulence — and just the person to have on your team during a pandemic.
Born and raised in the Richmond District of San Francisco, Flynn was 5 years old when she first climbed the steps to Lone Mountain. "The building and the campus made an impression," she said.
Years later, when she decided to go to law school, she applied to only one.
"USF felt like home," she said. "I fell in love with the law here."
Flynn graduated summa cum laude from USF Law in 2004. Before joining the faculty in 2007, she served as an assistant public defender in Contra Costa County. She is co-author of California Criminal Law: Cases and Problems, 4th Ed.
An Eye on the Curriculum
As associate dean, Flynn will supervise the curriculum, including the Academic and Bar Exam Success Program, a series of workshops, tutoring, and general preparation for the bar exam. She will also address student questions and issues.
"I'm thrilled to have Amy on board," said Dean Susan Freiwald. "She has the skills and talents of a successful teacher, administrator, and litigator — plus the deep concern of an alumna who wants our students and our law school to thrive."
Flynn is also a former whitewater rafting guide, with 15 years of experience leading expeditions in places like Africa, Nepal, and the Grand Canyon, so she knows how to navigate rough waters.
"It's tough to move forward during a pandemic, but we have an opportunity to manage this crisis with grace and to come out stronger," Flynn said. "USF has an advantage because we're a caring and committed community, with Jesuit core values that we can draw on to make tough decisions."
A Face to the Future
Flynn added that while USF Law students who graduated in May 2020 will clearly face coronavirus-related challenges, they are also looking at employment growth in fields including privacy law (think Zoom and contact tracing), tax law, employment law, and environmental law.
At USF, Flynn has taught criminal law, criminal procedure, appellate advocacy, criminal practice, legal drafting, and legal research, writing, and analysis. She also directs the moot court programs and the Keta Taylor Colby Death Penalty Project, a program that enlists law students in the reform, and ultimate abolition, of the death penalty in the United States.
Professor Tristin Green, who just finished a one-year term serving as associate dean for academic affairs, said that Amy Flynn is the ideal person to carry the torch. "She has the respect of our entire community. We're lucky to have her stepping into this role."