Engaged Learning
SBA President Nancy Avila Villatoro Builds Community in a Pandemic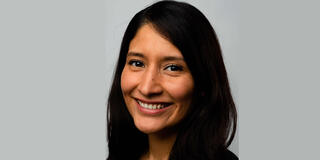 Nancy Avila Villatoro's year as leader of the Student Bar Association (SBA) has been anything but normal.
Avila Villatoro, a third year law student, was elected president of USF Law's student governing body in the middle of the COVID-19 pandemic, which ushered in a new era of remote learning. Since then, she has worked tirelessly to adapt the SBA's programming to an online format, keeping students engaged in law school culture from their homes.
"It's definitely not what I expected," Avila Villatoro says. "It's been difficult to be present, but we're really trying."
It has also been a time that has engendered a new level of compassion from her fellow students.
"A lot of students are very understanding in the midst of everything," Avila Villatoro said. "I really appreciate that. The pandemic is something new for everyone, and students are supportive and understanding of each other's circumstances."
Originally from Los Angeles, Avila Villatoro earned her undergraduate degree from UC Berkeley in social welfare with a minor in education. She then entered the workforce, moving back to Los Angeles to work as a community resource specialist with the Los Angeles City Attorney. She developed an interest in the law as a child, particularly as she watched her family work to gain citizenship.
The Academic Support Program (ASP) was in large part the reason Avila Villatoro chose USF Law over other law schools. That program supports students during the transition into law school with skills development and study strategy sessions.
It really helped me, having tutors available and being able to get more of that support in shifting from working full time to being a full-time student."
In her first year, Avila Villatoro served as the 1L representative to the SBA and as treasurer the following year. In her third year, she decided to run for president and won in a runoff election.
"I thought it would be a good way to hone my leadership skills, so I said: 'Let's give it a try and see what the student body decides.'"
As SBA president, Avila Villatoro has encountered pandemic-specific challenges, including helping new students form relationships, combatting students' Zoom fatigue so that they attend events, and finding the right forums to have discussions about important, timely matters such as the protests against systemic racism.
USF Law Assistant Dean for Student Affairs Stephanie Carlos commended Avila Villatoro's efforts during the pandemic.
"During an unprecedented time for everyone, those in leadership positions are facing added pressures," Carlos said.
Nancy has continuously adapted to the changing demands of her role, and has never wavered in her commitment to serving our students. We're incredibly fortunate to have her as SBA president."