Faculty & Staff Achievements
Immigrant Workers' Rights Advocate and Labor Law Scholar, Professor Maria Ontiveros to Retire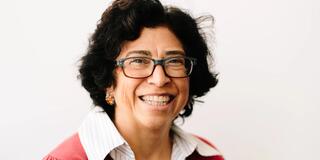 As labor and employment law Professor Maria Linda Ontiveros considers retirement in May, she points to her Mexican grandparents, Houston-born parents, and icons including farmworker advocates Dolores Huerta and Monica Ramirez as seminal influences leading her to hone in on immigrant workers' rights.
Co-director of USF's Work Law and Justice Program and co–author of best-selling casebook Employment Discrimination Law: Cases and Materials on Equality in the Workplace, Ontiveros recalls how the nascent concepts of critical race theory and intersectionality resonated while completing her Harvard JD in 1984.
"With my background, I wanted to focus on Mexican women; explore how critical race feminism and intersectionality theory could help that population."  She counts role modeling for her Latina students as among the most fulfilling rewards of her 21-year tenure at USF.
"At graduations they'll come up to me with their mothers, grandmothers and say, 'See, I really do have a Latina professor!' " She thrives on encouraging them to dream, showing them what they're capable of, how to achieve their goals.
Proteges wax poetic about her generosity in mentoring.
San Francisco Deputy City Attorney Carmen Leon, a 2006 alumna, credits Ontiveros for her pursuit of labor law.  A deep dive into the Hoffman Plastics Compounds, Inc. v. National Labor Relations Board (NLRB) decision for her written work requirement helped Leon clinch her first job upon graduation with the NLRB, where she stayed for 15 years.  Leon appreciated Ontiveros' approachability, both in class and as La Raza Student Association (now Latinx Law Student Association) faculty advisor.
"For somebody so incredibly smart to sit down and gift you a couple minutes of her time...." From recommendation letters for scholarships, intern applications, to a research assistantship, "I just appreciated her so much," Leon recalls. "All I had to do was ask and she was always, always willing."
2018 graduate Cassie Peabody describes "transformative" opportunities Ontiveros opened for her in the immigrant labor space. "Everything I've done in my legal career came from meeting her," says Peabody, legal director ofa watchdog nonprofit working to improve working conditions for non-union janitors. "She cares so much. She gets excited when people want to do things and she helps them."
Off hours, Ontiveros has helped build a soccer program to engage kids so they are more likely to graduate high school, and advocated for medical services around semi-rural Half Moon Bay where she lives. An artist who enjoyed mixed media and currently paints watercolors, she looks forward to more time for urban sketching, golfing, possibly training for a triathlon, and playing with her 2-year-old granddaughter.
Ontiveros expressed gratitude for USF's support of her passion for teaching, research and writing to protect the marginalized.  Her greatest joy has come when they intersect, "seeing students go out and do good work that changes the world."