Meet USF Law Professor Lindsay M. Harris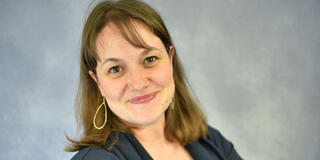 This past summer, Professor Lindsay Harris joined the USF Law faculty, serving as director of the Frank C. Newman International Human Rights Clinic as well as academic director of international programs. An expert in asylum law and policy, she was the Associate Dean of Clinical and Experiential Programs at the University of the District of Columbia David A. Clarke School of Law and has published extensively both in academic journals and national media, including the Washington Post, USA Today, and Bloomberg. We recently spoke with Professor Harris about her vision for the International Human Rights Clinic, what inspires her work, and returning to the Bay Area.
Why USF?
I am drawn to USF because of the genuine focus on social justice and harnessing the privilege those pursuing higher education enjoy to make meaningful difference in the world. The focus on cura personalis – caring for the whole person – very much resonates with my research and thinking on building sustainable careers in law practice. At the same time, I am really looking forward to connecting with the wider university and building community to advance human rights.
What or who inspires you professionally?
I am inspired by those who devote their lives to social justice and advancing human rights. For years I have worked with individuals seeking protection in the United States, some of whom are human rights defenders and activists, unable to continue their work in safety. It is these incredible advocates who inspire my vision for the Frank C. Newman International Human Rights Clinic. This spring, students in the Clinic will partner with human rights defenders in exile to create strategic advocacy plans to advance human rights.
Share one milestone learning moment about yourself or life.
It has been an immense privilege to work with survivors of trauma, but it took me some time to take seriously the very real phenomena of burnout and secondary trauma. As Angela Davis has explained, those engaged in the fight for social justice must take care of themselves. I now consider it part of my mission to ensure that future generations of law students and lawyers are equipped with the tools they need to navigate their emotional responses to lawyering and engage in healthy trauma stewardship. To that end, I'm co-editing a book with the brilliant Mallika Kaur, provisionally titled How to Account for Trauma and Emotions in Law Teaching. The book draws together contributions from law teachers across a wide variety of subjects within the U.S. and internationally. In that vein, I'm very excited to work alongside USF Law Professor Rhonda Magee, a true visionary and leader in mindfulness and the law.
What are you looking to discover in SF?
Moving to the Bay Area is a return to my first home within the United States. I first moved to California as an immigrant from the U.K. at the age of 16 and am very glad to return with my spouse and children to be closer to family, reconnect with old friends, and create new relationships. I'm so looking forward to rediscovering neighborhoods and spots in the city and throughout the Bay Area.
Any extracurricular activities or hobbies?
I am a mother to two energetic young children. I practice yoga daily and enjoy hiking so I'm very much looking forward to exploring all the amazing trails Bay Area has to offer. I also enjoy singing and may discover an outlet for that passion!