Engaged Learning
Matthew Liebman Named New Justice for Animals Chair
Litigator Appointed to New Chair Position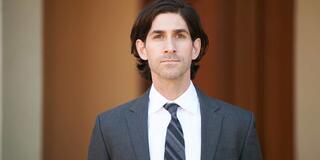 Following a nationwide search, accomplished litigator and animal rights advocate Matthew Liebman will join USF School of Law this July as the new Justice for Animals Chair.
Thanks to a generous $6.1M gift from an anonymous donor, the Justice for Animals endowed chair position will design and launch USF's animal law program commencing this fall.
Liebman envisions a wide-ranging program that will set USF Law apart: "Animal law is an exciting field to practice in because it's so uncharted. A world-class animal law program at USF will be responsive to the needs of students and will offer a robust curriculum that exposes students to a wide range of animal protection issues. USF could become a hub for scholarly conversations, hosting conferences, symposia, and lectures by world-renowned experts."
The field of animal law tackles difficult practical questions about how to regulate the use of animals in major commercial sectors, as well as theoretical questions about animals' legal status and what our legal system owes animals as a matter of justice. USF's animal law program will instruct students on how the legal system deals with the mistreatment and neglect of the billions of animals in factory farms, research labs, puppy mills, and roadside zoos.
Liebman will join USF Law after 12 years with the Animal Legal Defense Fund (ALDF), where he leads a team of attorneys who litigate every aspect of animal law, including issues related to environmental and constitutional law. Liebman graduated with distinction from Stanford Law School and with highest honors from University of Texas at Austin with a degree in philosophy. As a law student at Stanford, he co-founded a chapter of the Student Animal Legal Defense Fund and participated in student-activist organization Animal Rights on the Farm. After law school, Liebman clerked for the Honorable Warren J. Ferguson of the U.S. Court of Appeals for the Ninth Circuit.
He plans to share his experiences from the courtroom with students in the classroom: "Teaching presents an exciting opportunity to impart the knowledge I've gained from more than twelve years of practice in the field of animal law. Today's law students are tomorrow's lawyers, judges, activists, and policymakers. These future practitioners can take the skills and knowledge they acquire at USF and use them in their own careers."
Liebman's writing has appeared in the Animal Law Review, the Journal of Animal Law, the Stanford Environmental Law Journal, and the Animal Legal & Historical Web Center. With Bruce Wagman, he co-authored A Worldview of Animal Law, which examines how the legal systems of different countries govern our interactions with animals.
Dean Susan Freiwald is looking forward to supporting him as he shapes the new program. "We are thrilled that Matthew Liebman is joining our faculty to inspire and train the next generation of animal law lawyers."