Equipped to Lead and Succeed
Learning and Teaching the Law
Athena Edwards, '22, helps create legal ed youth internship program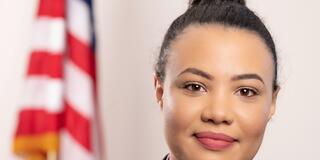 Athena Edwards, '22, is a self-described "dork" who loves explaining the law to people who aren't in law school.
"It's kind of my cup of tea...I'm like: 'Let me educate you.' That's my personality."
It may not be much of a stretch, then, that the 2L student is going beyond her studies to spearhead a new effort that will help young San Franciscans get their feet in the "legal door" through internships with the Public Defender's Office. Edwards is a Founding Fellow of the brand new San Francisco Young Defenders internship program, which is bringing 25 public high school students together to work on criminal justice issues over the next year.
"I feel that the law and even basic understanding of the law is very exclusively held by those who can go to law school," Edwards said. "I think that I and others like me bear a responsibility to share this knowledge with others."
Young Defenders is an offshoot of Opportunities for All, a city program created in 2018 to provide paid internships to thousands of young San Franciscans so they can build leadership and job skills to prepare for the workforce. The program is particularly geared so that underrepresented populations can explore career paths that otherwise might be inaccessible.
Edwards, who is originally from Ventura County and got her undergraduate degree in political science and history from UCLA, first served as a fellow in a criminal justice program with Opportunities for All this past summer. After a successful run, the organization decided to spin that internship off into the Young Defenders program, with Edwards designing the first curriculum.
"They have a lot of fun, and we try to make it fun," Edwards said.
Some of the highlights of Young Defenders will include mock trials open to the public, guest speakers and community outreach events on restorative justice and increasing jury diversity.
Through this program we have an opportunity to train and educate young San Franciscans on how the criminal legal system works and how public defenders advocate for people through every step of the process," said Public Defender Mano Raju in a press release. "My hope is we can start to build a new pipeline of diverse Public Defenders and criminal justice advocates through this program."
Young Defenders will also feature partnerships with the Human Rights Commission, the San Francisco Unified School District and Teachers 4 Social Justice.
Dean Susan Freiwald said Edwards' efforts embody the law school's mission to create innovative programs that serve the community. "It's so important that students take their learning outside of the classroom," Freiwald said. "I'm so proud of the work Athena is doing with Young Defenders to help diversify the legal profession."
Edwards, who has always engaged in public service and has volunteered for campaigns, in public libraries, and in education, says that after graduating from USF Law she will pass the torch of the Young Defenders fellowship ideally to another law student. She then hopes to go into criminal or constitutional law work.