Passion for Justice
Conserving the Horseshoe Crab Population
Alum Vern Norviel '85 wins legal battle on behalf of pro bono client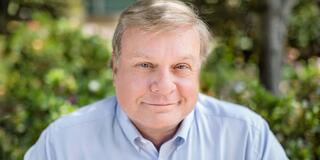 University of San Francisco School of Law alumnus Vern Norviel '85, a partner at Wilson Sonsini Goodrich & Rosati, has been at the forefront of a pro bono initiative aimed at safeguarding the endangered horseshoe crabs. 
For nearly 60 years, drug manufacturers have depended on a protein found in horseshoe crab blood cells to detect toxins in injectable drugs, vaccines, and medical equipment. 
Annually, an average of 500,000 horseshoe crabs are "harvested" and bled alive for up to 50% of their blood before being returned to the ocean. An estimated 130,000 die each year in the process, which has contributed to their population decline.
Norviel's efforts, in partnership with his firm's pro bono client Revive & Restore, have led to the establishment of a special chapter within US Pharmacopoeia (USP) that changes their standards to allow drug manufacturers to use non-animal derived reagents.
"It's huge, because now all of the large drug companies can feel comfortable going ahead and not using the blood of the crabs, but instead, using synthetic alternatives." Norviel said. 
Ryan Phelan, Co-Founder and Executive Director of Revive and Restore, said Vern and the team at Wilson Sonsini were instrumental to advancing their cause. "As a conservation organization, we depend on partnerships that can help translate science into action…Without Vern's support, our advocacy couldn't have achieved the wide reach and impact that has moved forward positive regulatory changes." Phelan said.
Norviel credits the University of San Francisco, specifically, Professor Emeritus J. Thomas McCarthy, for pioneering the education in intellectual property that launched his career in patent law. 
"When I was going to law school…USF was the only school in the area that did have intellectual property classes…he [McCarthy] taught intellectual property classes long before intellectual property was cool."
Since then, Norviel has helped start a number of life sciences technology companies and has served as an adjunct professor at Bay Area universities.
His interest in science also prompted him to become the first lawyer to have their DNA sequenced in Ilumina's genome project, which yielded interesting discoveries.  "I have a gene that causes me to be resistant to pain…so my half joking statement from all this is that I discovered 'the lawyer gene'," Norviel says.
For Norviel, the most rewarding part about his job is being able to work alongside scientists who are developing treatments for diseases such as cancer, ALS, and diabetes.   "What job in the world pays you and you get to just hang out all day with brilliant people whom you admire, doing things that are going to really, really help people? It's pretty sweet. It's almost too good to be true."