Equipped to Lead and Succeed
Commencement Ceremony Recognizes Three Graduating Classes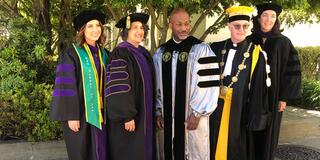 Students, families, recent graduates, faculty and staff came together May 20 at St. Ignatius Church for an unforgettable commencement ceremony celebrating three USF Law graduating classes.
The first in-person USF Law graduation since the start of the COVID-19 pandemic featured a commencement address by Alameda County Chief Public Defender Brendon Woods '96. It honored the Classes of 2020, 2021, and 2022. "The pandemic has taught us all to be resilient and to pivot gracefully," said USF Law Dean Susan Freiwald. "And I thank you graduates of the classes of 2020 and 2021, and also our most recent graduates, for your many graceful pivots in the face of the challenges we have faced together."
Woods, who was raised by an immigrant single mother before becoming the first Black chief public defender in Alameda County, reminisced on his own graduation in his address. While he remembers being excited about the prospect of pursuing justice through public defense, his strongest memory is seeing the looks on the faces of his family members."I remember they were proud that there was actually going to be a lawyer in their family," said Woods. "I was accomplishing my dream, but I was also accomplishing theirs. I would not be here without the love, support, generosity, caring, nurturing of my family. None of us would be here without the support of those people."
He encouraged students to nourish the relationships they formed with peers and mentors in law school and at some point in their careers "pay it forward" by becoming mentors to younger ranks.
He also exhorted graduates to confront the problem of racism in America by taking concrete actions in the name of social justice. In his own career, Woods has advocated for cash bail reform and challenged jury selections that would impact communities of color, among other efforts."Even if you don't do that with your career, I ask and beg that you do that with your life choices."
Dean Freiwald similarly urged the graduates to take pride in their achievements and "feel the gravity of what it means to be an agent of change." At the proceedings, Valentina Wilson '22 was recognized with the Academic Excellence Award and Marisela Musgrove '22 was honored with the Pursuit of Justice Award.
Lila Garlinghouse '22 was selected by the Class of 2022 to speak at the ceremony.
WATCH THE FULL COMMENCEMENT CEREMONY ON OUR YOUTUBE CHANNEL