Equipped to Lead and Succeed
Claire Solot '92 and Justice Charles E. Wilson '02 Honored at Annual Reception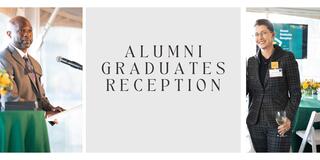 For the first time since the start of the COVID-19 pandemic, USF Law graduates, alumni, faculty and staff came together in person to welcome the Class of 2022 into the alumni community.
The Alumni Graduates Reception, which took place May 18 at the Presidio Golf Course Clubhouse, honored alumni Claire Solot '92, who was awarded the Donald L. Carano '59 Alumnus of the Year award and Justice Charles Edward Wilson JD/MBA '02, who won this year's John J. Meehan Alumni Fellow Award for Mentorship, as well as several student and faculty award winners.
USF Law Board of Governors President Gonzalo "Sal" Torres '88 said Justice Wilson "lends himself to the school whenever possible" and has "continually supported the school through hiring and mentoring students."
"Justice Wilson possesses charisma and humility that inspires those around him," Torres said.
Wilson, who worked as an Alameda County deputy district attorney before being appointed to the California Superior Court in Santa Clara County in 2014 and the Sixth District Court of Appeal in 2021, said in his acceptance speech that hiring and working with young lawyers has been a "labor of love."
"As someone who has benefited greatly from mentorship and opportunities provided by USF alums, I have always felt compelled to pay it forward," Wilson said. "To see these law students and young lawyers grow personally and professionally has been one of the joys of my life."
Alumnus of the Year Solot noted that her career has been full of pivots: from switching to part-time law school after having a child to getting a job as a research attorney at San Francisco Superior Court even though she originally wanted to work in family law, and finally pivoting to work in philanthropy. She is now a managing director of the Bigglesworth Family Foundation and co-founder of the Legal Services Funders Network, which works with Bay Area legal service organizations and funds fellowships with a focus on alleviating poverty.
"My parting words for all of you: Have an open mindset and a willingness to be imperfect," Solot said. "Lean into the turns and opportunities to pivot."
Other notable awards and their winners included: Prof. Jonathan Chu, Professor John Adler Distinguished Professor Award; Prof. Karren Shorofsky, Innovation in Teaching Award; Prof. Roy Eisenhardt, the Hon. Ira A. Brown, Jr. Distinguished Adjunct Professor Award; and Alegna Gomez, Student Bar Association Award.