Passion for Justice
USF Law Students Challenge Criminal Injustice
They work to free inmates whose sentences are suspect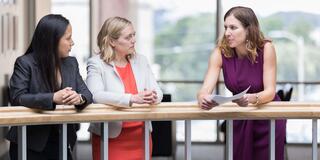 Students and faculty at USF's School of Law will begin reviewing criminal cases as part of a new Innocence Commission created by the San Francisco district attorney.
With the commission, led by USF Law Professor Lara Bazelon, USF law students and a staff attorney will work with the DA's office to review cases in which claims of wrongful conviction have been filed.
Bazelon, director of the Criminal and Juvenile Justice and Racial Justice clinics at USF, was named chair of the Innocence Commission by District Attorney Chesa Boudin on Sept. 17.
The commission will review cases and make recommendations to the DA's Post-Conviction Unit. The commission may recommend that the DA vacate convictions and seek the release of prisoners.
Boudin has said he will follow the recommendation of the commission unless there are extraordinary circumstances.
"The work of the Innocence Commission would not be possible without the support of the USF Racial Justice Clinic and Professor Bazelon," Boudin said.
In addition to her work with the Innocence Commission, Bazelon has created a new partnership between the Racial Justice Clinic and the DA's Post Conviction Unit. With the help of a second staff attorney, clinic students will review approximately 900 cases with sentences that may be disproportionate to the harm caused and in which the defendant may no longer pose a danger to society.
Bazelon and the Racial Justice Clinic team will submit their assessment and recommendation for each case to the Post Conviction Unit. Improving the criminal justice system and challenging long sentences lies at the heart of the mission of USF School of Law, Bazelon said.
"We cannot make meaningful progress in the fight to end mass incarceration until we reckon with the huge numbers of people who are incarcerated for serious and violent offenses," she said. "Many of them are now elderly and many have shown by the work they have done inside prison that they no longer pose a danger to the public and would, in fact, be productive members of their communities."
The Innocence Commission staff attorney will work in USF's Racial Justice Clinic, and the position is being funded by gifts from donors Elizabeth Zitrin of the Zitrin Foundation and Wendy Holcombe. The second staff attorney position in the Racial Justice Clinic, who will evaluate potential excessive sentencing cases, is being funded by the Vital Projects Fund.
"We are grateful to our donors, Elizabeth Zitrin of the Zitrin Foundation, Wendy Holcombe, and the Vital Projects Fund," said School of Law Dean Susan Freiwald, "for their generosity in helping us fund this unprecedented and invaluable partnership, and to Professor Bazelon for her dedication to the law school, her students, and to rectifying the harms the system inflicts on marginalized, under-resourced communities."