Passion for Justice
Racial Justice Clinic Students Battle Systemic Discrimination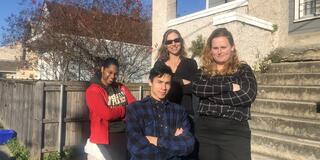 Racial Justice Clinic students Kendall Baron '21, Dustin Ercolano '21, and Sallia Wilkins '21 recently traveled to New Orleans, Louisiana with the goal of advancing their investigation into the case of Yutico Briley.
Briley was convicted of armed robbery based on a single cross racial show up identification — a controversial, suggestive form of visual identification where the victim is presented with one suspect only. The judge sentenced Briley, who was 19 at the time, to 60 years hard labor in a Louisiana prison without the possibility of parole. Briley has always maintained his innocence.
The Racial Justice Clinic's mission is to address racial discrimination throughout the criminal justice system. Professor Lara Bazelon, director of the Racial Justice Clinic, explained that from the beginning Briley's case "seemed disturbingly weak" and that several pieces of evidence convinced her of his innocence.
Bazelon noted Briley's clothing and physical description did not match the generic description provided by the victim: Briley was taller, heavier, and had facial hair. Furthermore, the victim described his assailant as wearing a "gray sweater" and "blue jeans." However, while in New Orleans, Baron, Ercolano, and Wilkins inspected the clothing Briley was wearing when he was arrested. They saw that his jeans were black and he was wearing a dark gray zip up hooded sweatshirt with white drawstrings and a red polo logo. Briley had an alibi, but his trial lawyers did not present this alibi to the jury.
While in Louisiana, in addition to photographing and inspecting the evidence, the students met with Briley in prison, met with his trial attorneys, and conducted additional investigation. They are currently pursuing further research related to the case.
"There's nothing I do that the students aren't doing as well," Bazelon commented. "It's research, it's writing, it's interviewing, it's strategizing, it's thinking about next steps."

Reflecting on the trip, Ercolano shared that the most meaningful part was time spent talking to the client, hearing his story and learning about him as a person. Ercolano explained that people who are accused of crimes like these too often lose their humanity in the eyes of the courts, police, media, and others. Wilkins expressed similar sentiments. "Watching a black man be swallowed up by the criminal justice system is a very disheartening feeling, but connecting with our client and learning new, essential information about his case helps restore hope," Wilkins said.
Baron notes the influential role that Prof. Bazelon played.
Professor Bazelon is amazing. She has such a vast body of knowledge and I feel like I learn something new every time I'm with her."
The Racial Justice Clinic is continuing to fight on Briley's behalf. Bazelon is confident there are additional avenues to establishing his innocence. This semester, she and clinic students are petitioning for unredacted copies of 48 pages from the prosecution's records.
The trip to Louisiana would not have been possible without generous funding from the Robert and Joyce Menschel Foundation, who sponsored all travel expenses, and Lieff Cabraser Heimann & Bernstein law firm, which is providing additional legal counsel pro bono.