Equipped to Lead and Succeed
Celebrating the Class of 2023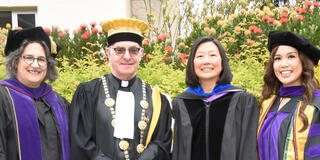 On Saturday, May 20, the USF Law community came together to celebrate the graduation of the Class of 2023. Family, friends, faculty and staff gathered in St. Ignatius Church and honored the 143 J.D., LLM, and MLST degree recipients.
The Honorable Lucy Haeran Koh, the first Korean-American to serve on a federal appellate court, served as commencement speaker, and Brea Aguas '23 was chosen by fellow graduates to address attendees.
In more than a decade on the bench, Judge Koh has presided over nearly 300 trials and issued more than 3,000 written decisions. Her caseload involves cybersecurity, intellectual property, antitrust, and other complex subjects, and has made her one of the most influential jurists in Silicon Valley.
In her address, Judge Koh inspired graduates by telling stories of USF Law alumni who have overcome significant obstacles, including Tatiana Lysenko '05, a Ukranian gymnast and Olympic gold medalist; Marjorie Morris Scardino '75, a publishing company CEO; and Chan Chung Win '18, the first Chinese American to pass the California Bar Exam. Judge Koh reflected on each alum's path to the legal profession, noting that "we rise to the occasion not by trying to be somebody else, but by relying on our own experiences and our own values when amazing chances or difficult choices come our way."
Dean Freiwald encouraged graduates to pause in appreciation for all that they have achieved and reminded them that "we know you will use your talents and skills to accelerate positive change and to usher in a better world. And we will continue to root for you as you do."