Passion for Justice
Law Students Help Free Wrongfully Convicted Man
Racial Justice Clinic leads exoneration effort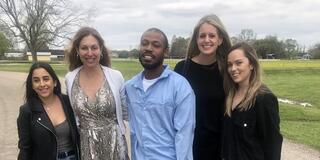 Six USF law students and their professor have won the release of a man convicted of a crime he did not commit.
Yutico Briley served eight years in prison for an armed robbery in New Orleans. He was 19 at the time of the 2012 robbery, and was sentenced to 60 years in prison without the possibility of parole.
The exoneration on March 18 was a first for the USF School of Law Racial Justice Clinic. Briley walked out of prison the next day.
A Long Journey
For Melody Haddad JD '22, the case taught her how difficult it is to get a wrongful conviction overturned.
"It should be as simple as, this man is innocent and therefore he does not belong in prison," she said. "However, this case has shown me how difficult that is to prove, particularly post-conviction. This case has taught me how important it is to have good advocates in a criminal case at the outset, for our system is too flawed to leave room for error at trial."
The law students worked on all facets of the case, said Lara Bazelon, School of Law professor and director of the Racial Justice Clinic. They helped draft the petition for relief, met with Briley over Zoom, and chased down leads.
Briley's conviction was overturned at a court hearing in New Orleans attended by Bazelon, as well as second-year law students Haddad, Laura Odujinrin, and Angela Crivello. Kendall Baron, Dustin Ercolano, and Sallia Wilkins, all third years who are graduating in May, also worked on the case.
"I am profoundly grateful for the support, dedication, grit, and hard work of the Racial Justice Clinic students who were there for every step of this long journey," said Bazelon.
A Textbook Example
New Orleans Criminal District Court Judge Angel Harris, who supported Briley's exoneration, called his conviction "a textbook example of the failings of our criminal court system."
Briley's conviction hinged on a single "show up" identification — a form of visual identification in which the victim is presented with only one suspect. This technique is considered faulty, especially when the victim is white and the suspect is Black, as in this case.
And although Briley had an ironclad alibi, the jury never heard it because his trial lawyers did not investigate it.
"From the time I started working on this case in August 2020 to the day Yutico walked free, this experience has been a roller coaster of emotions," said Crivello. "It was incredibly rewarding to be there when Yutico was exonerated. I am so grateful to Professor Bazelon for allowing me to be a part of it."
Briley said he now has his life back.
"It was something I had dreamed of for so long," he said. "So, for it to happen was surreal."
Image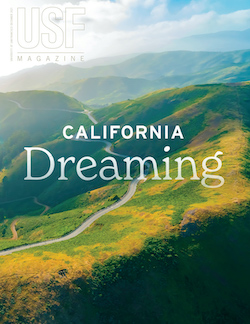 Featured in USF Magazine
This USF News story was published in USF Magazine, where you can find feature stories about university life, alumni Class Notes, and information about events at USF.