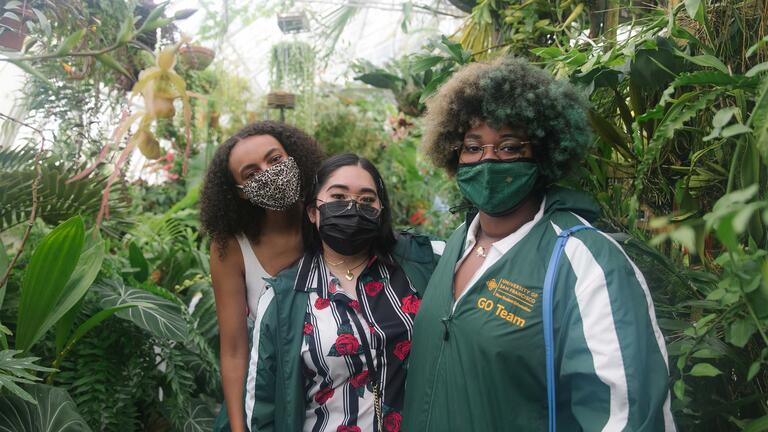 SCHOOL LIFE & CAREERS
Environmental Law Student and Alumni Society (ELSAS)
The Environmental Law Student and Alumni Society (ELSAS) brings together students, alumni, and faculty interested in environmental, land use, energy, water, and natural resources law.
ELSAS sponsors educational events and fosters professional development opportunities for students and alumni through informal and formal networking opportunities. The ELSAS-Student Division spearheads programs for students and the larger community. Alumni members benefit from invitations to ELSAS events, job postings offered by fellow ELSAS members, and opportunities to mentor students
To learn more about ELSAS, please contact Professor Alice Kaswan at kaswan@usfca.edu.
ELSAS Mentoring Program
The ELSAS mentoring program pairs alumni with one first-year student and one second- or third-year student who share similar environmental law interests, creating mini-mentoring groups. Mentors provide  career advice and support students in their curricular and career planning. For more information, contact Beth Ginise, ELS career development chair, or Prof. Alice Kaswan.
Become a Member Become a Mentor Become a Mentee Linkedin
ELSAS Advisory Board
ELSAS members and the law school benefit from insight and advice offered by the society's advisory board, consisting of USF's environmental law faculty and expert alums in government, public interest, and the private sector.
Joshua Bloom '90 — Principal, Meyers Nave Riback Silver & Wilson
Allison Brown '05 — California Public Utilities Commission
Luisa Elkins '12 — Procopio
Susan Gilbert-Miller — Chief Sustainability Officer for the US Department of Labor
Earl Hagstrom '90 — Partner, Bassi, Edlin, Huie, & Blum
Adam Hofmann '05 — Senior Counselor, Hanson Bridgett Adjunct Professor, University of San Francisco School of Law
Alice Kaswan — Professor, University of San Francisco School of Law
Barb Kautz '03 — Goldfarb & Lipman, LLP
Kendrick Li '11 — Pacific Gas & Electric
Nathan A. Metcalf '05 — Senior Counsel, Partner at Hanson Bridgett, LLP
Richard Pio Roda '01 — Principal, Meyers Nave
Shari Posner '93 — Office of the Attorney General of California, Lands Division
James Ralph '07 — California Public Utilities Commission
Richard Roos-Collins — Principal, Water and Power Law Group, PC Adjunct Professor, University of San Francisco School of Law
Abby Rubinson — Adjunct Professor, University of San Francisco School of Law
Susan Sakmar '95 — Visiting Assistant Professor, University of Houston Law Center
Rick Umoff '12 — Counsel and Regulatory Affairs Manager, Solar Energy Industries Association
Michael Underhill '82 — Adjunct Professor, University of San Francisco School of Law; Attorney in Charge, U.S. Department of Justice, Torts Branch, Civil Division