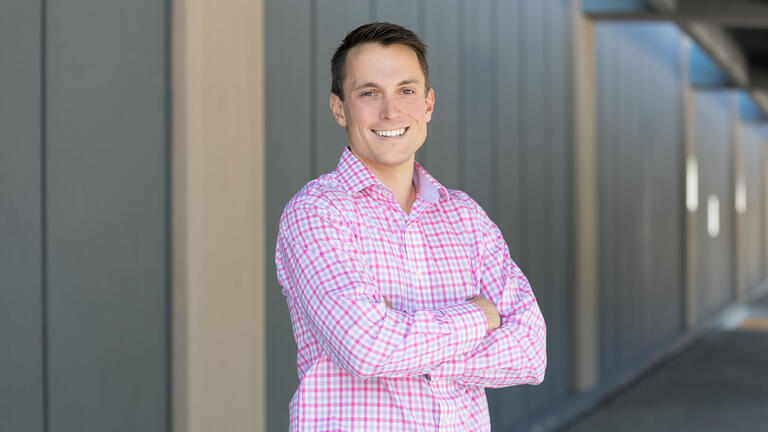 Private Law for the Public Good
Alum Rebounded from Shark Attack to Become Community Leader
Jonathan Kathrein '17 took an unconventional path to law school. A shark attack survivor at age 16, he led a nonprofit organization after college, worked in the clean energy sector, managed portions of a Northern California railroad's real estate portfolio, participated in political campaigns, and served on not-for-profit and for-profit boards of directors.
Yet through all his varied experiences, Jonathan sees a common theme of community, which he carries with him today as he represents clients in real estate transactions, land use, and general business matters at San Rafael-based Ragghianti Freitas LLP.
"When I look at my strengths in practicing law, a big one is being active in the community," he says. "Real estate law in particular revolves around the community. I've made the conscious choice to practice law in the Bay Area and navigate the complex issues we're facing every day like property and housing. For me, it constantly comes back to the community. I want to help people build something positive, whether that's a business or positive uses of their land or home, while understanding all the needs that must be balanced."
Jonathan first realized the importance of community involvement after surviving a harrowing attack by a 12-foot great white shark while boogie boarding off the Marin County coast. He underwent seven hours of surgery to reconstruct his leg and ultimately made a full recovery. Soon, invitations to speak to various groups about his experience rolled in and Jonathan realized he'd been given a platform to talk about the need to protect the coastline, beaches, and even sharks.
Whenever I needed help, everyone was always open and willing to help, whether administrators, professors, or students."
"From there, I found there were all sorts of opportunities to be active in the community, all sorts of different positive ways to help," he says.
By the time he entered law school, Jonathan was 31 years old, married with two children, and working full time. Initially drawn to USF School of Law because of its part-time program, Jonathan quickly discovered a supportive community as he balanced multiple demands on his time. "Whenever I needed help, everyone was always open and willing to help, whether administrators, professors, or students," he says. "The student environment is high caliber, but not unnecessarily competitive. Instead, it's supportive and inclusive, and everyone is happy to help others."
At USF, Jonathan gave back to the community by serving on the admissions committee, as well as on the boards of both the Real Estate Law Society and the Technology, Entrepreneur, and Start-up Law Association. He also wrote "The Future of Drones is the Railroad," an article published by the USF Intellectual Property and Technology Law Journal that recently won the California Lawyers Association Real Property Law Section Student Writing Award.
"USF is full of opportunities," Jonathan says. "There's a good balance of really learning the law, knowing the law, and also giving back by applying the law."
Jonathan credits USF with helping him further refine the need — and importance — of always seeking balance. For him, that includes finding the right balance between work, family, community, and health.
"That's the theme I've taken in almost everything I've done — bringing people together, finding solutions, helping to move things forward," he says. "Everything I do, I look at with a sense of finding balance and fairness. I always ask, 'How will this impact my community?' USF really reinforced these values."