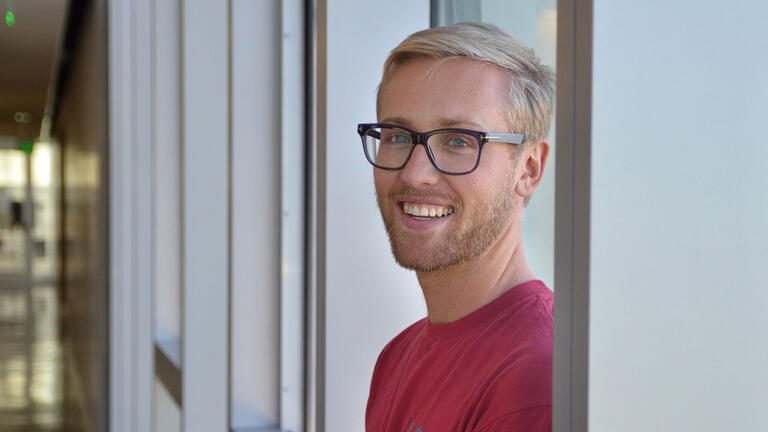 Engineering Environmentally Friendly Energy
Using the existing energy industry to drive social change
Austin Bushree '17 has his sights on the energy industry. A double major in computer science and physics, he plans on taking his freshly minted degrees to Stanford's Energy Resources Engineering graduate program to research tidal energy. Ultimately, he wants to learn how to engineer energy systems that use pre-existing infrastructures to keep the lights on in a more environmentally benign way.
What impact do you want to make on the world?
I hope to show the world how we can use the colossal revenue generated by the energy industry to drive social change. My "reach for the stars" dream is to set a new corporate standard for global responsibility. In short: the tools we need to establish a more environmentally sustainable and socially just world are already in our hands, we just need to figure out the best way to wield them. I hope to mobilize the energy industry to do exactly that.
What was your favorite thing about the computer science program?
Looking back on it, my favorite thing about the computer science department was seeing my professor's huge smile while explaining a new project we had to do was clearly going to thrust us outside of our comfort zones. Mainly because this was always followed by unrelenting encouragement to get ourselves across the finish line and an even bigger smile when we finished, seeing how much one tough project made us grow as students.
What's your fondest memory of USF?
My fondest memories at USF were not solely inside or outside the classroom, they took place over many semesters while I developed friendships with other individuals who are determined to make this planet a better place for the entire diverse population that lives on it. For example, one day I met a dude on the bus and we had awesome conversation. I figured I probably would never see him again, but a year later I ended up sitting next to him in a class that I had never even expected to take. He's now one of my closest friends and has driven me to redefine the importance of social impact in my career aspirations.
What would you say to your freshman self, if you could talk to him?
Hmm… that's a tough one. I think I would tell him not to take the uniqueness of San Francisco for granted. People here are so open to new ideas that if you really want to start your own company based on a cause that you're passionate about, you can actually get it off the ground in SF. It took me a long time to realize that, and then a little longer to realize how rare it is to live, work, and study in such an incubator. Capitalize on that. Worst case scenario? You have a real world learning experience under your belt. Base case scenario? Well, that's up to your own imagination.