Law in the Family
"Everyone helps each other and when one person succeeds, everybody does because we're so invested in each other's successes. It's a great, close-knit environment."
Image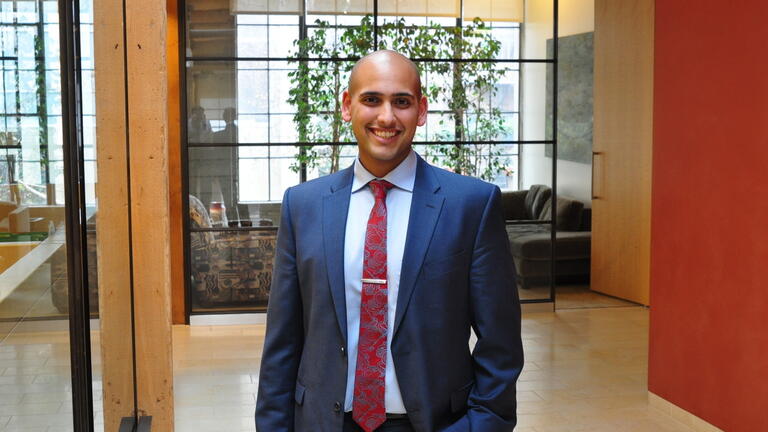 Shounak Dharap '16 recently won a seat on the Palo Alto Unified School District Board of Education, a position he views as an extension of the public service work began as a USF law student.
"I'm thankful to USF for providing me the platform on which to begin," says Dharap, 28, who is a plaintiffs attorney at The Arns Law Firm representing workers, consumers, and other injured people in class action litigation and arbitration cases. "I'm focused on building a school district that empowers each student to carve his or her own path to success, by strengthening educational support systems for students that raise the floor while also broadening innovative opportunities that raise the ceiling for success."
The way the professors at USF teach the law, it's really more than just what the law says. It's really the study of society. It's about righting wrongs. No matter what area of law you go into, the message is very clear that you are helping people."
As a law student Dharap held another elected position, as the Student Bar Association president. He was also a member of the Moot Court Board and helped guide new students as a tutor for various first-year courses.
"I wanted to be part of as many things as I possibly could at USF. The community helps you succeed and then you do as much as you can to give back to that community, which then helps you succeed more. It's a cycle," Dharap says. "I found myself excelling at USF, rising above what I thought I could accomplish. That's a very good feeling and I attribute it to USF. It's helped me realize there's no limit to what I can accomplish as long as I have a good support group and give back."
Everyone helps each other and when one person succeeds, everybody does because we're so invested in each other's successes."
That sense of community was a big reason Dharap chose USF. On a tour, he noticed the passion students have for the school and for helping each other. "Walking through the library, for example, I didn't feel like I was getting a tour of the building as much as the community it housed," he says. "Students would stop and say hi, giving their thoughts on the school and telling us to stop them in the halls if we had any questions."
The professors, Dharap says, are a big part of creating that community. They helped him with everything from understanding complicated legal issues not covered in class to offering career guidance — and opportunities.
"When I took a civil trial class my 3L year, I met a professor who believed in community as much as I did — Robert Arns '75. After I took his class, he hired me as a law clerk at The Arns Law Firm and the rest is history."
USF really taught me how to be a leader by providing opportunities to lead and teaching me the skills to be able to step up into those roles. I feel like my biggest transformation has been becoming a leader."
Dharap tracks his success at The Arns Firm and in public service to not only the legal education and skills training he received at USF, but to the school's mission to educate skilled, ethical leaders who work for positive change.
"The single most important thing that empowered me to succeed was the sense of agency that USF taught me — the idea that being a lawyer is more than just being something, it's doing something. USF truly instilled within me an unwavering belief that even a single person can change the world from here, and I've worked hard to realize that belief."