Life Support: Seeking Justice for Death Row Inmates
"USF has always been focused on training lawyers to have a passion for pursuing justice. The school has a commitment to giving back and making sure that justice is pursued and achieved. I take that with me every day."
Image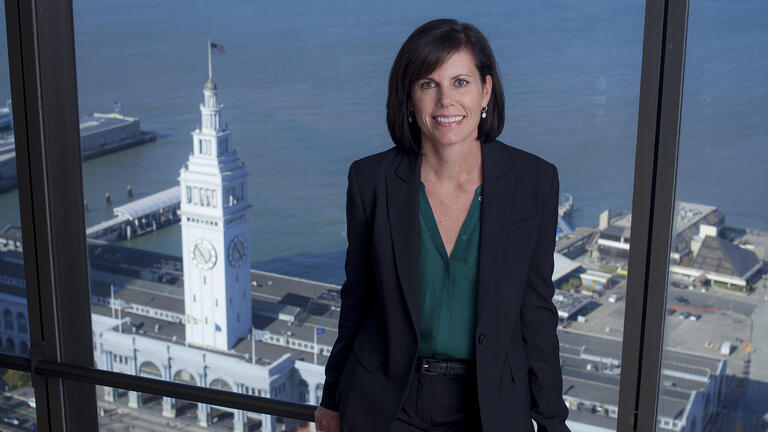 Among Molly Moriarty Lane's many accomplishments is one rarely seen – saving a woman's life.
Molly and her legal team spent more than eight years and 7,500 hours of pro bono legal and personal time to overturn the Texas death sentence of Cathy Henderson, a woman convicted of murder in the death of an infant she was babysitting.
"USF has always been focused on training lawyers to have a passion for pursuing justice," Molly says. "The school has a commitment to giving back and making sure that justice is pursued and achieved. I take that with me every day and this case was an example of seeking justice."
Molly, managing partner of Morgan Lewis's San Francisco office, was named the School of Law's 2015 Alumna of the Year. The award recognizes all of Molly's professional achievements, including the Henderson case, and her dedication to the law school. She has 25 years of complex litigation experience, defending clients in class action lawsuits in the healthcare, retail, technology, and financial sectors. She also handles general commercial dispute litigation in those industries. Many of her cases are at the leading edge of litigation areas, particularly as it relates to healthcare.
USF is a very collaborative, supportive environment, with the philosophy that if we all work together, we're all going to do better. That was the environment when I was there and that is definitely part of my philosophy now."
Molly remains connected to USF, serving on the School of Law's Board of Counselors. USF's strong alumni network, she says, helped her land her first job.
In the past, she's also been on the other side, involved with making hiring decisions. USF students, she says, always came in with strong practical skills and a willingness to work hard. She also found them to have strong interpersonal skills, important qualities Molly attributes to the school's close-knit, supportive environment.
"USF is a very collaborative, supportive environment, with the philosophy that if we all work together, we're all going to do better. That was the environment when I was there and that is definitely part of my philosophy now," Molly says. "It's better to work as a team than to compete with one another. Teamwork in a law firm is incredibly important and I think that approach has certainly helped me in my casework."
USF has always been focused on training lawyers to have a passion for pursuing justice. The school has a commitment to giving back and making sure that justice is pursued and achieved. I take that with me every day."
Her professors, she says, were a key part of that community. "They really took time to get to know and care about their students. They were engaging and interesting and always made classes fun."
They also cemented Molly's commitment to public service. "I realized after I started at a large firm that there are ways to give back to the community by doing pro bono work and other community-oriented types of work," Molly says. "Since the day I got out of law school, I've been very involved in pro bono work and I see the Henderson case as just an extension of a long tradition of pro bono work."