Faculty & Staff Achievements
Tristin Green Becomes Associate Dean of Academic Affairs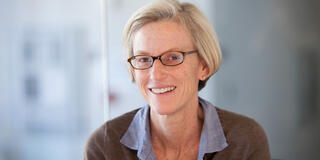 Professor Tristin Green assumed the role of associate dean of academic affairs for the law school, after serving as associate dean for faculty scholarship for the past three years.
"Tristin is a respected teacher and a prolific scholar who has been a leading voice in the field of employment discrimination law," said Dean Susan Freiwald. "Besides administrative acumen and a talent for building consensus, Tristin brings almost 20 years of experience in law teaching and an interest in educational innovation to the position. I look forward to working closely with Tristin to modernize our law school while remaining true to our mission and values."
Green has taught at USF School of Law since 2009, when she was a visiting professor; she joined USF as a tenured professor the following year. As associate dean for faculty scholarship, a position now held by Professor Alice Kaswan, Green brought more attention to the law faculty's scholarship and mentored her peers. In recognition of her own productivity, Tristin has been a Dean's Circle Scholar since 2012.
Green's teaching and scholarship are influenced by her background in journalism and sociology, and she is a leader of the movement to provide solutions to workplace harassment and discrimination. Her book, Discrimination Laundering: The Rise of Organizational Innocence and the Crisis of Equal Opportunity Law, was published by Cambridge University Press in 2017. She is also co-author with Herma Hill Kay of a casebook, Sex-Based Discrimination: Text, Cases, and Materials, Seventh Edition (2011). Many journals have published Green's articles, including the Yale Law Journal Forum, Harvard Civil Rights-Civil Liberties Law Review, Boston University Law Review, and Southern California Law Review.
"USF Law is such a special place — with truly talented, diverse, and dedicated students and faculty. I cannot imagine a better community to work with and for," said Green. "I care deeply about teaching and also about scholarship. The two for me are intimately intertwined into my daily efforts to reach and teach our students and to change the world for the better. The associate dean work will be a new challenge for me, but it is important work that needs to get done and I am honored to be asked to do it."