Engaged Learning
Rachel Arnow-Richman's Pemberton Lecture Examines Labor and Employment Law After #MeToo
The 15th Annual Jack Pemberton Lecture on Workplace Justice, "Employer Incentives Post #MeToo: Winners, Losers, and the Quest for Best Practices" on March 21, addressed the #MeToo movement's impact on sexual assault within the workplace, corporate leaders being exempted from consequences, and ensuring due process for the accused while also protecting survivors.
"The Jack Pemberton lecture on workplace justice is one of the longest running lecture series at the University of San Francisco. It serves as a way to highlight our tremendous labor and employment law program and bring outstanding academic voices to our community," said Professor Maria Ontiveros, who co-organized the event with Professor and Associate Dean for Faculty Scholarship Tristin Green and Professor Michelle Travis.
This year's lecture, held at the U.S. Court of Appeals for the Ninth Circuit, featured Rachel Arnow-Richman, professor of law at the University of Denver Sturm College of Law, where she directs the Workplace Law Program. Arnow-Richman specializes in contracts, employment law, and employment discrimination. In the wake of #MeToo, she founded UNLEASH Equality, a coalition of teachers from across the country that works to advance public education in gender inequality and sexual assault.
The Pemberton lecture series reflects the law school's deep commitment to addressing practical issues in the law, said Interim Dean Susan Freiwald. "This year's topic of how the #MeToo movement has affected employment practices is an excellent example of a critically important current legal issue that is significant, practical, and of personal importance to our students, to our alums, and to the community generally."
Arnow-Richman discussed the ways in which big businesses tolerate sexual harassment from their top dog employees, while disproportionately policing lower-rank employees to avoid seeming "soft" on sexual assault. This policing includes the absence of due process for the accused. "How do we strike a balance between protecting victims and treating alleged harassers fairly?" she asked.
She called on the current and future lawyers in the audience to help ensure fairness of the accused and determine best practices, particularly in relation to low-level employees. "I urge you to educate your clients about the scope of sexual harassment, and its relationship to gender discrimination and gender inequity more broadly. I urge you to remind them to be deliberative in revising and implementing their policies and their practices. And I ask all of you to remember that when it comes to accusations of sexual harassment, not all accused harassers are created equal."
Graduating students were also honored for their exceptional labor and employment law studies at the event. Sandra Beltran 3L, Elizabeth Lyons 3L, and Matthew Vann 3L received the ABA-Bloomberg BNA Award for Excellence in the Study of Labor and Employment Law. Beltran, Lyons, Paul Hirsch 3L, and Tyrell Bernardo 3L were recognized for earning a Labor and Employment Law certificate.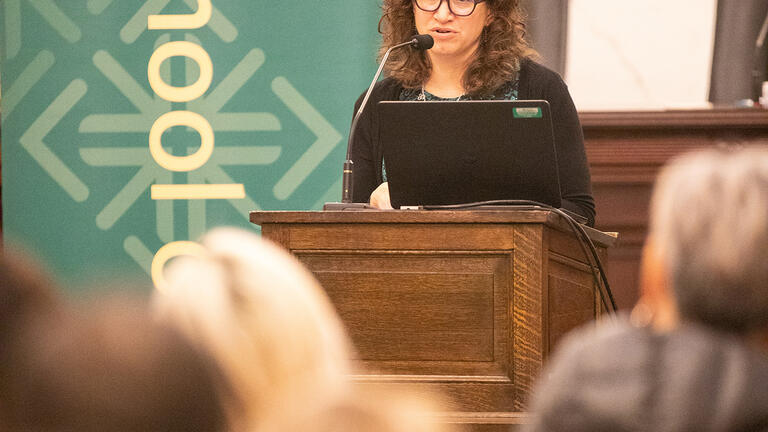 Rachel Arnow-Richman speaking at lecturn