Faculty & Staff Achievements
New Graduate Degree Programs Director Brings Experience and Enthusiasm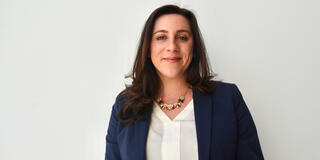 Olivera Jovanovic joined USF School of Law as the new director of the Graduate Degree Programs.
Under her purview will be the Graduate Tax Program, which features a unique partnership with Andersen Tax and helps attorneys and finance professionals advance their careers in the tax field, LLM in Intellectual Property and Technology Law, and LLM in International Transactions and Comparative Law.
"Olivera brings the ideal combination of direct work experience, management acumen, innovative thinking, and heartfelt enthusiasm to take our Graduate Degree Programs to the next level," said Interim Dean Susan Freiwald. "I am excited for our students, alums, and faculty to meet her so they can see that their beloved programs are in excellent hands."
Jovanovic previously led Golden Gate University's Tax and Estate Planning programs, as well oversaw all of its graduate admissions. Prior to that, she practiced as a trusts and estates attorney at Haas & Najarian. She earned a bachelor's degree from San Diego State University, a JD from UC Hastings College of the Law, and an LLM in Estate Planning from Golden Gate University School of Law.