Engaged Learning
Law Review Symposium Address Cryptocurrencies and the Law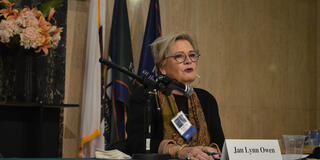 The 2019 Law Review Symposium, "Demystifying Cryptocurrency and Blockchain for Lawyers," on Jan. 25 brought together lawyers, regulators, scholars, and students to examine these new and emerging technologies and their places in law.
The symposium featured panels on the regulatory landscape of virtual currencies, recent policy developments, and how blockchain is reshaping the legal practice. The event was co-sponsored by the California Lawyers Association Business Law Section, Cotchett Pitre & McCarthy LLP, and the USF Intellectual Property and Cyber Law Association.
"This year's Law Review Symposium provided a unique opportunity to engage regulators, the private bar, and academics on a cutting-edge topic at the intersection of law and technology," said Professor Reza Dibadj, who moderated a panel on virtual currencies from the regulatory agencies' perspective. "The level of engagement and dialogue between speakers and the audience — not to mention among speakers — was extraordinary. Conversations continued well beyond the formal presentations, and professional connections were made."
Three panels featured experts from across the country, Stephen Lau, assistant general counsel at the California Department of Business Oversight; Grant Fondo, partner and chair of the blockchain and digital currency group at Goodwin; Nancy Wojtas, partner at Cooley LLP; Joshua de Larios-Heiman '05, managing director at Data Law; and Gregory LaBlanc, lecturer at UC Berkeley's Haas School of Business.
In her keynote address, Jan Lynn Owen, the first commissioner of the Department of Business Oversight appointed by Gov. Jerry Brown in 2013, discussed her experience with cryptocurrency and how she believes it will continue to evolve.
"It's easy to see why the smartphone generation could fall in love with bitcoin…or at least the idea of it," she said. "Imagine, a value that you can keep on your phone just like a video or a song. Value you can send peer-to-peer, as easily as you can send a selfie."
Discussing the future of bitcoin, Owen explained that the government would need to protect financial services consumers as society progresses toward more peer-to-peer financial activity. "At a minimum, the government would need to make sure that peer-to-peer activity takes place in a transparent, equitable, and informed environment," she explained. "The rest will be something for the bright young minds in the room to figure out."
"I was especially excited to hear the panel on blockchain and how the technology is shaping the practice of law," said Symposium Editor Ryan Manuel 3L. "I thought it was important to discuss present and future uses and application of blockchain technology and more specifically, how blockchain technology can benefit the practice of law, how it can shape how attorneys interact, manage, and present their clients in the future — as well as address their challenges."