Equipped to Lead and Succeed
Justice Rules
USF School of Law alumnus brings his values to the Sonoma County Superior Court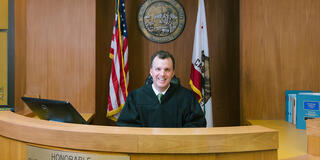 Each time the Hon. Christopher Honigsberg '05 enters the courtroom, he sees his role as twofold: handling the cases before him, and ensuring that the public has faith in both the judicial branch and in how the law is interpreted and applied.
"As a judge, it is really important to me to be patient and respectful of everyone, especially the litigants and members of the public," Hon. Honigsberg said. "I think people who are not used to court are often intimidated in court or have a preconceived notion of how a judge acts based on TV or movies. I want to make sure everyone leaves feeling heard and respected. It is important that the public have trust in the judiciary and each individual judge plays a role in ensuring the public trust."
Appointed by Gov. Jerry Brown to the Sonoma County Superior Court in 2018 at age 38, Hon. Honigsberg was one of the youngest judges appointed in recent memory. He is currently assigned to a felony trial department and also sits as one of three judges on the appellate division of the Superior Court.
"USF teaches the practical aspects of being a lawyer, not just the theoretical."
"Judge Honigsberg has been an excellent addition to the Sonoma County bench," said Presiding Judge Gary Nadler '79. "He is well prepared, thoughtful, and well received by counsel on both sides of the table."
Prior to his appointment, Hon. Honigsberg was a Sonoma County deputy district attorney, handling several high-profile cases. He began his career in 2006 as a prosecutor in Tulare County.
Hon. Honigsberg's interest in criminal law extends back to his time as a law student when he co-founded the Criminal Law Society as a 2L. He also was involved in student government during his third year and participated in various advocacy competitions as a member of the trial competition team.
In classes and in activities, Hon. Honigsberg said there was a common goal that ran through USF: Use the law for good and in a just manner.
"USF is focused on social values and the administration of justice, which is very important for any judge and for any lawyer," Hon. Honigsberg said. "USF focused a lot on using the power of the law for social good and to benefit society, and that extends to all areas of the law. Improving criminal justice, for example, does not mean exclusively being a defense attorney or an attorney for the ACLU. Prosecutors wield a lot of power and using that power in a just and thoughtful manner is very important. USF helps to instill that thoughtful nature in every student."
As an alumnus, Hon. Honigsberg mentors a 1L through the Alumni Mentor Program, occasionally sits as a judge for moot court, and serves on a panel of judges who speak with 1L students about preparing for court. Such involvement is his way of giving back to the school that he credits with providing a strong foundation for his success through the combination of its social justice emphasis and its focus on hands-on training.
"USF teaches the practical aspects of being a lawyer, not just the theoretical," he said. "USF taught me the nuts and bolts of being a good trial lawyer, which helped me advance within different offices, try complex and difficult cases, get good results, and be fortunate enough to be appointed to the bench."