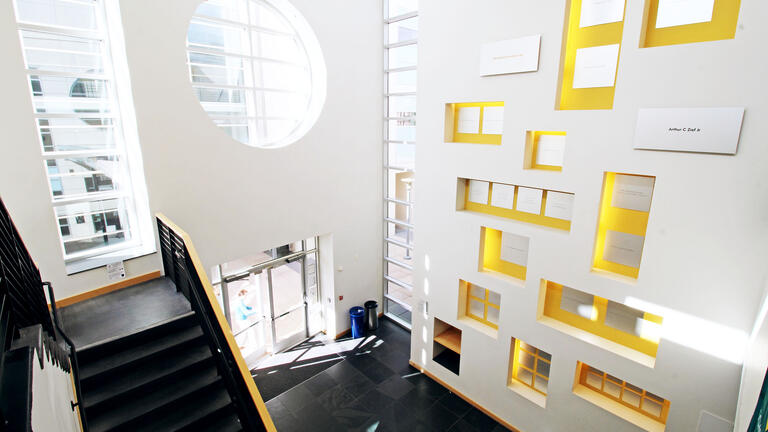 Dorraine Zief Law Library
Course Reserves, Databases, Interlibrary Loans
Zief Law Library offers a variety of services to its patrons, including research assistance and instruction, interlibrary loan and course reserves.
Course Reserves
Course Reserve for Faculty
Faculty members may place required reading materials on course reserve for students enrolled in their courses by completing the request form and sending it to the law library's Circulation Desk. We typically require at least three business days to process course reserve requests, and we prefer to have two weeks' prior notice whenever possible. Course reserve materials are located behind the Circulation Desk. Materials on course reserve can include past and current exams, books, audiovisual items, and personal copies of materials from faculty members. If you have a large number of photocopied articles for course reserve, please ask Faculty Services to place them in a three-ring binder before delivering them to the law library. Unfortunately, we are unable to place materials from other libraries on course reserve.
At the end of each semester, the law library removes course material from the course reserve area and deactivates course web pages. If you submit personal copies of material for course reserve, please pick up your material at the end of the semester. To request course reserves for the next successive semester, please complete a Library Course Reserve Request.
Course Reserve for Students
At the request of law faculty, the law library will place certain materials on reserve for particular courses to help ensure students' access to these materials. To find out whether your professor has placed course materials on reserve at the law library, you can access the course reserve search function on our online catalog, Ignacio. Enter either "Instructor" or "Course Name" to access the course reserve page for your class.
If the material on reserve is in print format, you can ask for it at the law library's Circulation Desk. Please request all items by title. Typically, there is a two-hour loan period for course reserve materials. You must show a valid USF ID card in order to borrow course reserve material, and you must renew in person — course reserve materials cannot be renewed online.
Database Access
Most Zief Law Library databases are available to current USF students, faculty and staff via authentication. Licensing agreements may limit database access for non-law students, faculty, and staff.
To connect to our databases, follow these steps:
Find a link to the database you want to search. To connect successfully from off-campus, you need to use a database link that appears on the law library's A to Z database list or Gleeson Library's A to Z database list.
When you click on the database link, you will be prompted to supply your myUSF login information. This is the same username and password that you use to log in to any myUSF application (campus email, Concur, course registration, etc.).
For additional information about the library's authentication system, please visit our Open Athens page.
If you are a USF law student, law professor, or law staff member and experience problems with database access, contact the Zief research librarians via live chat.
Interlibrary Loans
If you are a USF Law faculty member, student, or staff member and need a book that the library does not have, we will try to borrow it from another library through interlibrary loan.
The law library can also request copies of articles not available at USF from other libraries or from commercial document delivery companies. If the law library is not able to obtain a document for you directly, we will try to refer you to a commercial service that can.
Interlibrary loan service is available to all USF law faculty, law students, and law staff. These members of the USF law school community may request an interlibrary loan by making a Interlibrary Loan Request or by visiting the reference desk at the USF law library.
The Gleeson Library Interlibrary Loan Department (415-422-5385) offers interlibrary loan service to other members of the USF community.