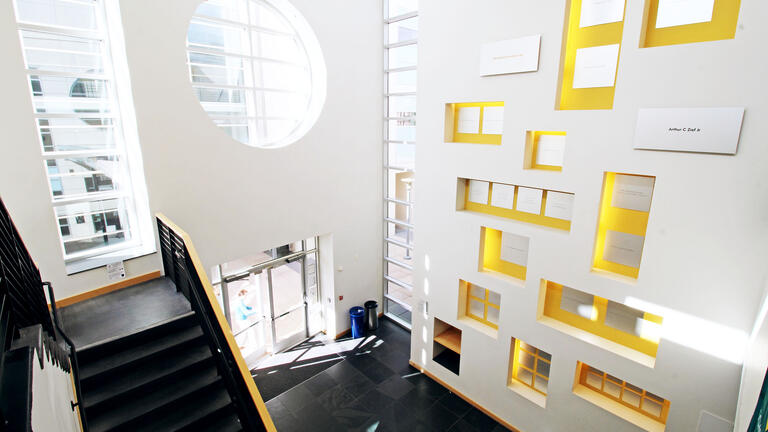 Dorraine Zief Law Library
Collection & Access Policies
COVID-19 Update: The law library is currently open exclusively to USF Law students, faculty, and staff. Our special access card program has been terminated. Please contact the librarians if you have questions about library operations.
Zief Law Library has developed the following administrative policies to help ensure that the library operates smoothly.
Collection Development Policy
Part I: Goals and Operating Principles
Purpose
The University of San Francisco Zief Law Library is a private academic law library dedicated to supporting the education of our law students and the scholarship of our faculty. Our collection development policy is designed to be flexible and adaptable to technological changes in the acquisition, storage, retrieval, and preservation of information. The collection meets the current standards of the American Bar Association and the Association of American Law Schools. The law librarians will periodically review this policy to address curriculum and scholarship changes and will continuously assess budget conditions that affect collection development.
Patrons
The Zief Law Library's primary patrons are current USF law faculty and students. If staff, budget, and other resources permit, the law library will also attempt to accommodate the needs of the USF University community, and alumni.
Government Depository Status
The law library has a selective housing arrangement with USF's Gleeson Library-Geshcke Center ("Gleeson" or "University" library), a federal government document depository. Under the shared housing agreement, the law library houses federal depository materials pertinent to the needs of the law school community. The law library is also a selective depository for California state documents. The law library sends non-legal state documents to the University library. As a result of these arrangements, the law library makes available to the public, in accordance with applicable regulations and library policies, the federal and California state government documents received through depository status.
Part II:  Collection Access
The law library's goal is to provide meaningful access to research materials needed by our patrons whether or not available within the law library's collection. The law library helps patrons obtain desired information in a variety of ways, including the use of online research resources, teaching, creating instructional resources that guide patrons to relevant library collection materials, interlibrary loan, and cooperative agreements with other institutions.
The law library's reference, reserve and general collections are fully cataloged and accessible via USF's online public catalog (Ignacio).  The library's microform and audio-visual collections are cataloged, and patrons may view and print hard copies of the microform collection using microfiche and microfilm reader/printers. Both the law school and the law library have equipment for viewing DVDs. The law library strives to furnish remote access to online research resources whenever feasible.
The law library subscribes to a wide variety of online research resources, including Westlaw, LexisNexis, Bloomberg Law, and HeinOnline. All of the research librarians teach basic legal research in cooperation with the first-year Legal Research, Writing, and Analysis program. All of the research librarians teach courses to upper-level students within the law school curriculum, including Advanced Legal Research and California Advanced Legal Research.
Part III: General Acquisition Guidelines
Collection Level
The law library collects at the Instructional Support Level in all major subject areas taught at the USF School of Law. Instructional Support Level is defined as a collection or access capability that is sufficient to support instruction and research at the J.D. level, and at the LL.M level in subject areas where the LL.M degree is available. This level consists of (1) reference tools; (2) appropriate primary authorities and secondary sources; (3) monograph titles; and (4) journal titles. Basic legal research and bibliographic tools are also included.
Criteria for Recommending Acquisition
The law library may use the following criteria to evaluate additions to the law library collection: 
Cost
User interface
Authoritativeness of publisher or producer
Significance of the subject
Importance and expertise of the author
Accuracy of the information
Potential for known use by patrons
Importance to the total collection
Appearance of title in important bibliographies, lists, and reviewing media
Current and/or permanent value
Scarcity of material on the subject
Availability of material elsewhere
Format (print, microfiche, digital, etc.)
Longevity of format
Physical quality (binding, print, margins, etc.)
Duplication
Available space
Maintenance (actual and staff costs)
Format
The law library makes decisions about format based on budget conditions and the reliability and permanence of access. The law library evaluates available formats on a case-by-case basis.
Micro Formats
The law library will acquire microfilm and microfiche, with preference for microfiche, from time to time, but it is not a preferred format.  The law library may choose to purchase microfilm or microfiche occasionally for any of the following reasons: 
Acquire retrospective back files
Reduce shelf space required for hard copy
Provide duplication of large sets
Provide research materials
Replace deteriorating materials
Save costs in acquiring materials
Provide desired material not available in any other format. 
Audiovisual Materials
At the discretion of the law library director, the law library may purchase audio and video materials at a faculty member's request for use in a specific course. Video materials are purchased in DVD format whenever possible.  The law library may purchase other law-related DVDs to support certain courses if, in the judgment of the law library staff, the purchase is warranted to support the curriculum.
Online Resources
The law library seeks out new online resources and evaluates their usefulness for the collection.  
Imprint Dates
In general, the law library acquires current material (i.e., having an imprint date within the last ten years) as a higher priority than acquiring retrospective material. Retrospective material is acquired if it constitutes a part of a back file of a current title, is likely to receive a high degree of use, or is received through donation.
Duplication
Duplication within the collection is avoided unless there is a demonstrable need for additional copies based on student and faculty use.  Additional copies of the same title are not purchased unless class size or heavy demand warrant purchase.
Duplication of large sets may occur through micro format or through online access. Availability of materials in other Bay Area libraries, particularly library members of the Association of Jesuit Colleges and Universities (AJCU) consortium, is taken into consideration to avoid duplication of expensive or rarely used items.
The law library does not duplicate materials housed in the University library collection unless duplication is warranted because of law library patron needs. Generally, the law library relies on the University library to provide access to interdisciplinary materials.
Accessibility in Lieu of Acquisition
The Zief Law Library uses the OCLC bibliographic utility and maintains an interlibrary loan program for patrons. The law library maintains reciprocal access agreements for faculty and students with other private academic law libraries. The law library strives to avoid purchasing rarely-used or expensive titles if those materials are available through interlibrary loan.
California Materials
The law library maintains a comprehensive print and online collection of California primary and secondary legal materials, including state codes, case law, regulations and other administrative agency materials, treatises, practice guides, and monographs.
Reference Material and Open Reserve
The law library maintains a separate reference collection located near the entrance of the library.  The law library also shelves heavily-used treatises, practice guides and study aids near the research desk in an open reserve area.  Having these frequently-used materials in an easily accessible location greatly benefits the students and other library patrons.
Treatises
The law library strives to include a variety of treatises covering subjects addressed within the curriculum or by faculty research within the collection. Authoritativeness of the author, cost, the law curriculum, quality of the information, and institutional affiliation are major criteria the library considers in selecting treatises.
Periodicals
The law library relies on Westlaw, Lexis, HeinOnline and other online databases for access to law reviews and journals. The law library maintains print subscriptions only for those law reviews and journals that are not accessible online.
State and Federal Documents
The law library relies on participation in state and federal depository programs to supply many state and federal documents. The law library acquires additional government documents if it is necessary to do so to support the curriculum or patrons' research needs. When appropriate, the library coordinates selection with the University library.
Gifts
The law library accepts gifts and donations of books and other materials only when they can be used to enhance the collection or replace worn out volumes. Gifts of library materials may be accepted so long as the donor does not attach conditions to the gift and the materials conform to selection guidelines. Cash donation offers are negotiated if conditions are attached.  The law library staff consults with the law library director before accepting gifts. Only the law library staff may decide upon the appropriate classification, housing, and circulation of gift materials. The law library retains the right to dispose of gifts at any time and in any manner deemed appropriate. The law library does not estimate the value of the gift for tax purposes.
Part IV:  Specific Subject Areas Collected to Support Curriculum
Administrative Law
Alternative Dispute Resolution
Animal Law
Antitrust Law
Appellate Advocacy
Arbitration
Bankruptcy
Bioethics
Business Planning
California Law, Generally
Children's Rights
Chinese Law and Legal System
Civil Litigation Practice
Civil Procedure
Civil Rights Law 
Commercial Transactions
Community Property
Comparative Law
Conflict of Laws
Constitutional Law
Contracts
Copyright Law
Corporate Taxation
Corporations and Partnerships
Criminal Law
Criminal Procedure
Cyberspace Law
Death Penalty Law
Discovery
Discrimination Law
Employment Discrimination
Environmental Law: California, Federal and International 
ERISA
Estate Planning
European Union Law
Evidence
Family Law
Federal Courts
Forensic Evidence
Gender & Sexuality Law
Health Care Law
Housing Discrimination
Human Rights Law
Immigration Law
Information Technology Law
Insurance Law
Intellectual Property
International Business Transactions
International Economic Relations
Jurisprudence
Juvenile Law and Justice
Labor Law
Land Use
Legal History
Legal Research, Writing & Analysis
Legal Scholarship
Marine Insurance
Maritime Law
Native American Law
Negotiation
Patent Law
Predatory Lending Law
Privacy Rights
Professional Responsibility and Ethics
Public Interest and Nonprofit Organizations
Public International Law
Real Estate Transactions
Real Property
Remedies
Securities Regulation
Secured Transactions
Sports Law
Street Law
Supreme Court
Taxation (Federal and Foreign/International)
Telecommunications Law
Torts
Trademark
Trial Advocacy and Practice
Uniform Commercial Code
Venture Capital Law
Water Law
Wills and Trusts
Workers' Compensation Law 
Part V: Guidelines for Collection of Foreign, Comparative and International Law Materials
The Zief Law Library's foreign, comparative and international law collection includes materials that are selected to complement the law school curriculum and scholarship interests of the law school faculty and patrons.  New materials are acquired based on the following guidelines.
General Criteria – All Areas
The Library collects primarily English-language materials. 
Factors to consider in selecting materials are:
Relevance to courses being offered, and/or special USF Law programs, such as the International Human Rights Clinic
Relevance to current faculty research interests
Relevance to topics of current interest that generate frequent research questions.
Specific Areas
Public International Law
Public international law deals with relations among sovereign nation states.  The law library may collect materials on the following subjects: 
United Nations and its operations
Organization and operation of other international government organizations (IGOs)
Location and interpretation of treaties
International trade (as regulated by treaties such as NAFTA or the GATT, and by bodies such as the WTO)
Law of "commons," which are spaces/regions that are not under the sovereignty of any nation (e.g., the high seas, outer space, and Antarctica)
Human rights, including refugee law, children's rights, and women's rights
Law of war and war crimes tribunals and of dispute resolution among nations
International criminal law
Environmental law (core materials only)
Labor law
Theoretical and jurisprudential issues (if written by a respected author or scholar)
Arab-Israeli peace process and current literature on the Middle East conflicts
International law relating to terrorism.
Private International Law
Private international law involves rules which govern the choice of law in private matters, such as business contracts, family law, and the like. The law library may collect materials on the following subjects:
Conflict of laws
Transnational business arrangements
Dispute resolution among private parties in multi-national transactions
Litigation of cases with multi-national aspects.
Where potential purchases have a focus on certain jurisdictions or regions, collection efforts should focus on materials involving the Pacific Rim, North America, Europe, and the nations listed below in the "Foreign Law" section.  Materials with a strong practitioner orientation (e.g., how-to manuals, form books, etc.) are generally beyond the scope of the collection unless they support a law school course.
Comparative Law
Comparative law is the study of laws and legal systems of different nations.  The law library may collect materials on the following subjects:
Theories of comparative law, if written by a respected author or scholar, or the source is favorably reviewed
Intellectual property and technology
Trade regulation and antitrust law
Environmental law
Biotechnology and bioethics
Business organizations and transactions
Privacy and data protection
Constitutional law
Family law
Labor and employment law
Foreign Law
Foreign law refers to the law of an individual foreign country, or a supranational entity, such as the European Community (EC)/European Union (EU). This includes both primary and secondary sources.  Generally, the law library does not collect primary foreign law, except as it is found in English translations and deals with subjects of interest to our patrons. The law library may collect materials in the following areas:
Translations of major codes (civil, commercial, penal, procedural).  European countries whose codes would be considered for collection are France, Germany, the Czech Republic, Russia, and other EU member nations.  Asian countries whose codes would be considered include, but are not limited to, China, Japan, Korea, Taiwan, Vietnam, Indonesia, Singapore, Thailand, Malaysia, and Cambodia.  Codes from Mexico will be considered due to the relationship between Mexico and the United States arising from NAFTA and other trade agreements, treaties and conventions.  Codes of other nations may be collected if they support the curriculum of the law school or the research needs of the library's primary patrons.
Overviews of the laws/legal system of an individual jurisdiction
Resources about doing business in a single foreign country (secondary sources or translations of laws)
Intellectual property laws of a foreign state
Country-specific materials with a strong practitioner orientation (e.g., how-to manuals, form books, etc.) are generally beyond the scope of the collection, unless they support a course taught at the law school.
Part VI: Collection Methods
The law library employs an academic press preview plan for monograph selection. The library subscribes to the "green slip" service through Hein, and most monograph orders are placed through Midwest or other academic press preview plans.
The library maintains loose-leaf services and other continuations through service representatives of various publishing companies. The Head of Collection Services maintains contact with the representatives so that the library may review continuations and make renewal decisions regarding the services prior to yearly price increases.
The library maintains law-related government documents forwarded by the University library and processes and counts the official legal reports received through the University's depository status.
The library maintains the microform collection through direct order, plus standing orders on open-ended titles.
Selection Process
The law librarians work collaboratively to review and identify various materials for acquisition by the law library. Law faculty, students, and other library staff assist in the selection process by keeping the librarians informed about patron requests and gaps in the collection.  In addition, the research librarians regularly evaluate specific subject areas of interest to faculty to ensure that the library collection supports teaching and scholarship needs.
Weeding
The law library periodically evaluates sections of the collection in order to make weeding decisions. Staff may consult faculty members to assist with weeding decisions in certain subject areas.
Part VII: Future Challenges and Opportunities
Primary challenges include periodic modifications to library space to accommodate other law school functions and dedicating librarian time to analyze collection development needs (for example, researching new resources and titles, surveying faculty and student research needs, and analyzing the current collection levels in various subject areas).
The librarians strive to continuously monitor the collection to ensure it supports the curriculum and faculty's scholarship needs.  As a member of various faculty committees, the law library director stays abreast of new course offerings and advises the law librarians when the collection needs to be modified to support curricular changes. The law library director also collaborates with the law school's management on changes to the library's physical space to ensure that the library has adequate collection growth space.
The law library's faculty-research librarian liaison program is one of the most effective tools that the library has developed to assess collection needs.  This program allows the research librarians to establish familiarity with faculty members' research agendas and gather information from faculty on an ongoing basis regarding their scholarship projects and teaching needs.
The law library anticipates that demand for online access to legal materials will continue to grow. As online sources proliferate, law library staff members have shifted more emphasis to instruction and assumed a primary role in educating faculty and students about the resources available to support their research, teaching and learning.  Librarians improve access to the collection by designing programs that train faculty and students to integrate new online resources into their research.
Access Policy
The University of San Francisco is a private, Jesuit institution, and the Dorraine Zief Law Library is a private research library for the University of San Francisco.
As a private institution, Zief Law Library is not open to the general public, and staff will restrict access to the facility when necessary.
Zief Law Library's primary clientele — USF School of Law faculty, USF School of Law staff, and currently-enrolled USF School of Law students — have priority access to the collection and library services.
Individuals who are not currently enrolled at or employed by the University of San Francisco will be admitted to the library only if they belong to one of the following groups:
Law school students enrolled at other ABA-accredited institutions may access the law library if they possess a current law student ID card.  However, the law library reserves the right to change its policy regarding access for non-USF law students at any time in order to help ensure that USF Law students have access to sufficient study space in the law library.
Law faculty and staff from other ABA-accredited academic institutions may access the law library, provided that they present a current faculty or staff ID card at the circulation desk;
USF School of Law alumni may access the law library at any time after graduation. Law library staff will need to verify alumni status prior to allowing entry for any USF Law alumni who are not members of a state bar;
Persons needing to consult federal or state depository documents.
Every individual must show appropriate identification in order to enter the library. This policy applies whenever the library is open.
USF students, faculty and staff must tap their current USF ID at the security gate. USF School of Law alumni must show a state bar membership card or another form of ID that will allow library staff to validate USF Law alumni status.  Law students, faculty or staff members from other ABA-accredited law schools must present a current academic institution ID. Federal or state depository document users must sign in at the circulation desk, and such users must discuss their specific research needs with full-time library staff.
This Access Policy is intended to help ensure the safety of our patrons and the security of the law library.  Zief Law Library staff may prohibit individuals from entering the building or seek assistance from USF's Department of Public Safety to remove any individual who engages in the following behaviors: 1) refuses to comply with library policies, including our policy on limiting access to the law library during law school reading and exam periods; or 2) engages in disruptive activities or behavior that interferes with the ordinary use and operation of the law library; or 3) poses a threat to library staff, other patrons, or the security of the library's collections.
Evening Access: Notice to Library Users Who Do Not Possess a USF ID Card
Zief Law Library's entrance doors lock at 5 pm. Individuals who have a USF ID card may enter the library after 5 pm by swiping the ID card through the release mechanism just outside the door.
Individuals who do not have a USF ID card should buzz the circulation desk, using the buzzer to the right of the entrance doors. These individuals will still need to satisfy the above access requirements in order to use the law library.
Exam Period Access
During reading and exam periods, access to Zief Law Library is further restricted to make more room available for USF Law students. During law school reading and exam periods, only the following groups may use the law library:
Current USF faculty and staff;
Current USF Law students only. Students enrolled in other USF graduate and undergraduate programs may use the law library during law school reading and exam periods only if they have a current assignment that requires them to conduct legal research. Law library staff may require USF students to display the legal research assignment in order to ascertain if entry is appropriate;
USF School of Law alumni; and
Persons needing to consult federal or state depository documents.
Group Study Rooms and Virtual Conference Rooms
The law library maintains group study rooms for the exclusive use of USF law students, law faculty, and law staff. Monopolizing library space, rooms, seating, study tables or equipment to the exclusion of others is prohibited.
Law faculty, students, and staff can book a group study room online.
A group of two or more students may reserve a group study room for a maximum of a single two hour block of time per day. No group or any members of a group may sign up for a group study room for more than two hours per day.
A group may remain in a room beyond the two hour limit if no other group has signed up for that room. The group may remain in the room only until another group signs up for the room, at which point the room must be vacated.
Rooms will be held for up to 15 minutes after the beginning of the reserved time. If the group who made the reservation does not claim the room within 15 minutes of the beginning of the reservation, another group may be allowed to use the room.
During exam periods, and on other occasions if an emergency arises, it is sometimes necessary to use the group study rooms for exam administration. However, the study rooms may only be reserved for exam administration through the Registrar's office. Students may not book the group study rooms for exams directly through the library website. Any such direct reservations are subject to cancellation.
Law school departments and organizations may need to reserve group study rooms for law-school-related activities for more than two hours per day. Law school staff must contact full-time circulation staff for this type of use.
Full-time faculty requiring multiple group study rooms for class-related activities must also reserve rooms with a full-time member of the circulation staff. Unfortunately, due to the number of adjunct faculty, we are unable to furnish group study rooms for adjuncts' office hours.
The windows in group study rooms must not be blocked or covered.
Library staff will ask groups that are excessively noisy and disturbing other library patrons to vacate group study rooms.
A violation of one or more of these group study room rules may result in suspension of group study room privileges.
As a courtesy to our recent law graduates, the law library furnishes access to group study rooms during bar exam preparation. All of these rules, including the two hour limit, continue to apply to recent graduates' group study room reservations. All-day reservation of group study rooms is not permitted. Alumni studying for the bar who have remained in a group study room beyond two hours must vacate the room if other patrons want to use it.
Virtual Conference Room Policy (Zief 116)
Currently-enrolled USF Law students and USF Law alumni may book the virtual conference room online for a single 2-hour period per day for virtual interviews. The process for booking Zief 116 online is the same as booking a group study room online. Patrons must use a USF email address to reserve online.
Zief 116 are available for virtual interviews only. These rooms cannot be booked for any activity involving 2 or more individuals, including, but not limited to meetings with clients or individual or group study sessions. Law students and alumni must furnish and set up their own devices for virtual interviews. No USF IT support is available unless the individuals booking the room make their own arrangements for IT support.
At the beginning of your reservation, please check in with staff at the library's circulation desk so they can escort you to Zief 116.
Please maintain a low noise level when using the virtual conference rooms because they are located next to library staff offices. Any use of the virtual conference rooms that disturbs regular library operations is not permitted. You must not block the windows in the rooms.You must vacate the virtual conference room at the scheduled end time for your reservation.Please do not eat in the virtual conference rooms (beverages are allowed).
As with all Zief room reservations, law library staff may terminate a reservation at any time without prior notice for any reason. Violating any of these policies may result in loss of reservation privileges.
Interlibrary Loans
This section summarizes the Zief law library's interlibrary borrowing and lending policies.
For questions about interlibrary lending ("ILL") and borrowing policies and procedures, please call 415-422-5120.
Borrowing Services for USF Law Faculty, Staff, and Students
Eligible patrons
Interlibrary loan (ILL) and photocopy services are available to USF law faculty, law staff and law students. USF students, faculty and staff not affiliated with the law school must use the interlibrary loan services provided by Gleeson Library.
What We Can Request From Other Libraries
We will borrow items not owned by USF libraries and items missing from the USF libraries' collections. We will not borrow books owned by the USF libraries which are temporarily in use or on reserve.
We will request photocopies from publications not owned by USF and from publications missing from the USF libraries. We will also request copies of pages missing from USF libraries' materials.
Making a Request
USF law faculty, staff and students may make borrowing requests by calling the Zief interlibrary loan coordinator at 415-422-5120. Requests for photocopies need to be made in person at the Zief library reference desk so that the patron can deliver an Interlibrary Loan Request indicating compliance with copyright law.
What We Ask From Patrons
To submit an Interlibrary Loan Request with the complete bibliographic information, stating where the citation was found and attaching a photocopy or printout from the citing document if possible.
To indicate compliance with the Copyright Law (Title 17, U.S. Code) where required.
To pay for any photocopying or other processing/lending charges incurred. (Many lending libraries charge for loans or photocopies.)
To be responsible for returning all materials on time and in the condition in which they were received. Failure to return borrowed items by the due date will result in suspension of Bursar and Registration services until the items are returned and all associated charges are paid in full.
To pay for lost or damaged books. These charges are set by the lending library.
Lending Services to Other Libraries
Eligible Libraries
We will lend to:
Other academic law libraries
General academic libraries
State, court, and county law libraries
Public libraries
Local law firm libraries, if these libraries are staffed by librarians affiliated with the Northern California Association of Law Libraries and are located within the San Francisco Bay Area.  In addition, local law firm libraries are expected to send a messenger to pick up and return any items obtained via interlibrary loan.
We will provide photocopies to the following types of libraries, provided that the request states compliance with copyright law (CCL) or guidelines (CCG):
Academic law libraries
General academic libraries
State, court, and county law libraries
Public libraries
Materials That May Be Obtained Through Interlibrary Loan
Generally, we will lend only circulating materials (i.e., single-volume, un-supplemented monographs not in loose leaf format).
Charges
The law library charges $20 per item for lending to other academic law libraries, general academic libraries, state, court, and county law libraries, public libraries, or local law firm libraries.
Making a Request
Eligible libraries must request interlibrary loans via OCLC only. Requests for photocopies must indicate compliance with copyright law. Please allow two business days to process lending requests. The law library cannot provide Rush Service due to staffing limitations. For Rush Service, consider contacting the following fee-based document delivery services:
To verify our holdings, check the USF libraries' online catalog, Ignacio. Please note that only items with the word "LAW" in the location field are in the law library collection. We can entertain ILL requests only for those items.
Our fax number is 415-422-2345.
Our mailing address is:
Interlibrary Lending
Dorraine Zief Law Library
University of San Francisco School of Law
2130 Fulton Street
San Francisco, CA 94117-1080
For questions about ILL policies and procedures, call 415-422-5120.
Legal Research Service Policies
1. Summary of Service Policy
The University of San Francisco (USF) is a private, Jesuit institution, and the USF Law Library is a private research library for the University of San Francisco. This policy defines the research services law librarians at the USF Law Library will provide to its user groups. This policy also defines circumstances in which research services may be limited or refused. Please refer to the Law Library's Access Policy for more detail about who is permitted to access the Law Library.
Current USF students, faculty, and staff have first priority to use Law Library facilities, resources, and services, including legal research assistance. The USF Law Library provides research service to support to the fullest extent possible the research needs of current USF, students, faculty, and staff.
The Law Library will provide legal research assistance to USF Law alumni and law students from other ABA-accredited law schools if possible given the constraints of time, budget, and staffing. The Law Library will provide assistance to members of the public with the use of government documents in accordance with the regulations regarding the California and Federal depository programs.
The Law Library staff may refuse access to legal research services to anyone who disrupts others' use of the Law Library or who engages in behavior that is intimidating or disrespectful to library staff or other users.
2. Guidelines for Service Groups
A. USF Faculty
The Law Library research librarians will assist USF faculty in securing information necessary to support their teaching and scholarship.
B. USF Students
The Law Library research librarians will assist students in securing information that is related to their coursework and education at USF. When appropriate, Law Library research librarians will also design and deliver legal research instruction to USF students. Law Library research librarians may refer questions from USF undergraduate and non-law graduate students to Gleeson Library staff for response whenever the law librarians deem such referrals appropriate.
Subject to the limitations set forth in this policy and time and staffing constraints, the Law Library research librarians will provide legal research assistance to law students working in law firms, courts, government agencies, and other legal services organizations.
Subject to the limitations set forth in this policy and to time and staffing constraints, the Law Library research librarians will suggest resources for USF students who require legal services for personal reasons.
C. USF Staff
The Law Library research librarians will provide research services to University of San Francisco staff to help them fulfill job-related information needs.
D. USF Law Alumni and Law Students Attending Other ABA-Accredited Law Schools
Where possible, given time and staffing constraints, the Law Library research librarians will provide legal research services to USF Law alumni and law students currently attending other ABA-accredited law schools. The Law Library does not furnish legal research services to students enrolled in paralegal programs at other colleges and universities.
E. Members of the Public
The Law Library research librarians will assist members of the public in locating California and Federal government depository documents to the extent required by California and Federal government depository regulations. The Law Library does not furnish research services to the public. Instead, the Law Library staff will refer public patrons who need access to legal materials outside of depository documents or research advice to publicly-funded law libraries.
3. Service Limitations
A. Unauthorized Practice of Law
The Law Library research librarians shall not furnish legal assistance or interpretations of the law if, in the judgment of the research librarian providing service, doing so would result in any violation of law, including, but not limited to, breach of the California Rules of Professional Conduct or the commission of the crime of unauthorized practice of law.
B. Use of Law Library Databases
Law Library research librarians shall use Lexis and Westlaw to assist current USF Law faculty, law students, and law staff in accordance with applicable contracts between the USF Law Library and these vendors. Law Library staff must comply with vendor licensing agreements when furnishing legal research assistance to all user groups.
C. Telephone Research Assistance
The Law Library research librarians may answer simple research questions over the phone for patrons eligible to receive service under this policy. In-person or chat-service research requests will receive priority. The Law Library staff will not read cases, statutes, regulations, or other documents over the phone.
D. Virtual Research Assistance
The Law Library research librarians may answer research questions received from USF students, faculty, and staff via chat, text, or instant message. The Law Library research librarians may answer simple virtual questions relating to the California and Federal depository government documents available at the USF Law Library.
Updated March 2022