Passion for Justice
USF Law Student Uses Cell Phone Data to Prove a Man Innocent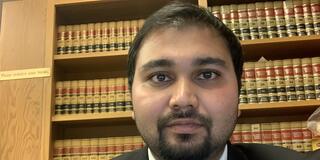 While working with the Keta Taylor Colby Death Penalty Project (KTC) in Jackson, Mississippi, USF Law student Zynal Aziz '20, uncovered evidence that ultimately exonerated a man wrongfully accused of murder.
Jonathon Shumaker was accused of killing a gas station clerk in a small town in Mississippi and was charged with capital murder in 2015. Aziz and fellow KTC students spent the summer of 2018 working on his case, when Aziz made a critical discovery: cell phone data placed Shumaker 13 miles away from the crime scene at the time of the murder.
The Keta Taylor Colby Death Penalty Project was established in 2001 and operates under the direction of Professor Amy Flynn '04, a KTC alumna herself. The program provides students with hands-on experience in cases where clients are facing the death penalty, with the ultimate goal of abolishing capital punishment in the United States. The program has a particular focus on the South, where more executions take place than any other region. Each summer students spend 10 weeks in several southern cities working with local capital defense lawyers.
In 2015, Jonathon Shumaker was arrested at his home along with two friends and his girlfriend shortly after the gas station murder. Shumaker's two friends originally said that all four were innocent but after spending time with police, Shumaker's friends changed their stories and placed the blame on Shumaker. Based on these testimonies alone, Shumaker was charged with murder and taken to jail to await trial.
Aziz and a fellow KTC student met with Shumaker, who had always maintained his innocence, and Aziz immediately felt that something didn't sit right with this case. The students were tasked with investigating all aspects of the case, including reviewing over 1,000 pages of cell phone records from one of the friends who was with Shumaker at the time of the crime.
After several days of sifting through the files, Aziz came across a sound clip that was time stamped just minutes after the crime took place and geographically miles away. Listening to the recording, one can hear Shumaker's friends rapping and Shumaker's distinct voice in the background. The cell phone data proves that Shumaker could not have been at the gas station at the time of the murder.
Shumaker was released from jail in December 2019, years after being incarcerated for a crime he did not commit. "It feels great," Aziz commented. "I don't think anyone had time to do what we did, just comb through those thousands of pages of material." Aziz also highlights the importance of Professor Flynn's guidance throughout the summer. "She basically gave me hope and helped me understand that there's something that can happen" with the data that he discovered.
Professor Flynn shared "Without Zynal's hard work and dedication to his client, Shumaker could be on death row right now. This KTC victory highlights the critical importance of the practical skills and hands-on experiences we offer in the program — to both our students and their clients."