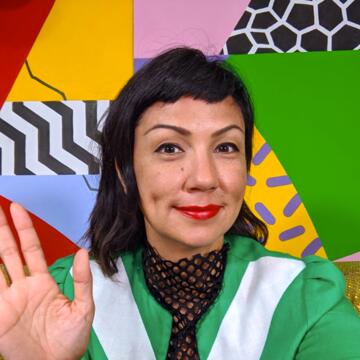 Jenifer Wofford
Assistant Professor
Full-Time Faculty
Part-Time Faculty
Biography
Jenifer Wofford is a professional fine artist and illustrator who shows her work both nationally and internationally. She has presented projects in the Bay Area at venues including YBCA, the de Young Museum, the Berkeley Art Museum, and the San Jose Museum of Art.
Wofford was the recipient of a 2017 Joan Mitchell Foundation Painters and Sculptors Grant, and a featured artist (with her collaborators) in the 2018 Manila Biennale. In 2020 she was awarded a public art commission from the Asian Art Museum for their Lui Hyde Street Art Wall.
Wofford is an active member of the Southern Exposure Board of Directors. She received a bachelor of fine arts from the San Francisco Art Institute, and a master of fine arts from UC Berkeley.
Expertise
Visual art
Philippine studies
Global contemporary art
Research Areas
Illustration and comics
Contemporary art practice
Art in the community
Art of the Philippine diaspora
Non-western art
Global contemporary art
Education
UC Berkeley, MFA in Art Practice
San Francisco Art Institute, BFA in Sculpture
Prior Experience
Adjunct Faculty in Art Practice, UC Berkeley
Adjunct Professor in Fine Arts, San Francisco State University
Visiting Faculty (Li Shen Endowed Artist in Residence), Mills College
MFA Graduate Advisor, Vermont College of Fine Arts
Awards & Distinctions
Public Art Commission, Lui Hyde Street Art Wall, Asian Art Musem, 2020
Individual Artist Commission grant, San Francisco Arts Commission, 2019
Painters and Sculptors Grant, Joan Mitchell Foundation, 2017
Investing In Artists Grant, Center for Cultural Innovation, 2012
Eureka Fellowship, Fleishhacker Foundation, 2009
Exhibitions and Projects
Asian Art Museum, San Francisco, CA
Silverlens Galleries, Manila, Philippines
Southern Exposure, San Francisco, CA
Wing Luke Museum, Seattle, WA
Manila Biennale, Manila, Philippines