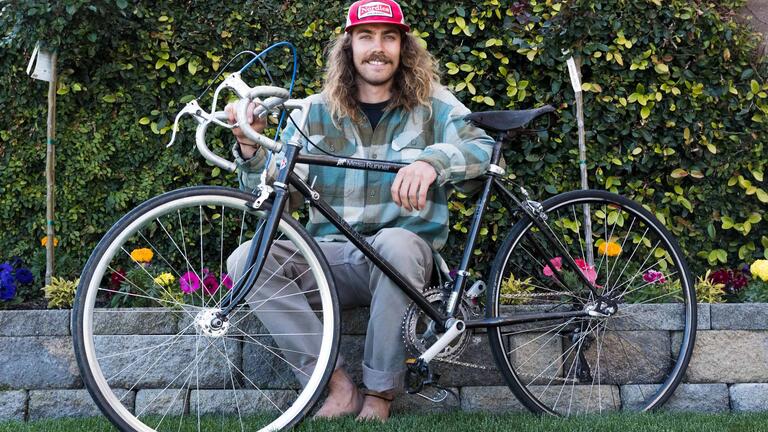 Transportation and Parking
USF Transportation Programs
The University of San Francisco has approximately 600 on-campus parking spaces and provides a number of commuter incentive programs and services to the community.
Transportation
The University of San Francisco provides a number of commuter incentive programs and services to the university community. Implemented in compliance with the State of California's Clean Air Quality Act and the American Disabilities Act, they are also designed to better manage campus parking resources.
Public Transportation
USF provides discounted SF Muni passes for the fall and spring semesters to undergraduate students. The Muni bus lines 5-Fulton and 31-Balboa run parallel to the USF campus.
5-Fulton stops at the corner of Fulton and Parker streets, in front of the Kendrick School of Law and St. Ignatius Church on the lower main campus. 5-Fulton also stops at Fulton and Clayton streets, in front of Malloy Hall and on the south side of Fulton adjacent to lower campus.
31-Balboa stops at Chabot Terrace and Turk Street, directly in front of the staircase to the Lone Mountain complex. It also stops by the 281 Masonic classroom and office building at the corner of Turk and Masonic streets.
Visit 511.org to find complete information on all of the public transportation options, traffic alerts, and green transportation alternatives in San Francisco and the surrounding Bay Area.
Commuting by Bicycle
There are a number of bike racks on the USF campus, which can be located through our transportation map. 
Bicycle Policies
Carpool, Vanpool, Rideshare, and Other Options
Parking
The University of San Francisco has approximately 600 parking spaces available on campus. The vast majority of these spaces are used by faculty and staff. However, a handful of spaces are allocated to students each academic year.
Student Parking
USF has very limited parking and, as such, is unable to provide ample parking spaces for the majority of the USF community. Therefore, in accordance with San Francisco city planning, sustainability efforts, limited campus parking, and in order to reduce the amount of traffic in the residential neighborhood that surrounds the university, all students who live in any University housing facility are prohibited from bringing vehicles to campus and are ineligible to receive semester or annual parking permits.
During the fall and spring semesters, full time and 3-day part time permits are awarded through a lottery system to students living outside of a 3-mile radius from campus. During the summer, however, students may purchase any type of parking permit.
Parking On Campus
All parking lots on campus are available on a first-come, first-serve basis for faculty, staff, students, and guests with valid permits. Semester and annual permits can be purchased through iParq, and daily permits can be purchased from the Main Gate or Lone Mountain Gate kiosks for $20.
The following links will acquaint you further with parking spaces at USF:
Special Event Parking
USF also offers USF departments and non-USF departments the opportunity to allow guests at special events to park on campus without permits. For more information, please email parking@usfca.edu.
General Parking Rules and Regulations
All drivers on campus are subject to the University of San Francisco parking regulations. Each driver is responsible for knowing and abiding by these regulations. The rules and regulations apply 24 hours a day, 7 days a week. Students living within 3 miles of campus are not eligible for parking permits. Faculty and staff living within a ½ mile of campus are not eligible for parking permits.
A valid University of San Francisco issued parking permit is required/must be displayed to park on University of San Francisco property. Payment alone does not qualify someone to park. Permits are only valid through the expiration date shown in your account or when permit is scanned.
All faculty, staff, students, affiliates, and guests may only have one semester parking permit at all times.
Any persons with outstanding on-campus vehicle citations will not be issued a USF parking permit.
It is the sole responsibility of the person applying to provide the correct vehicle information in the application for the USF parking permit. Any misinformation may result in a citation. While we do not require copies of vehicle registration, up to 5 vehicles for Faculty/Staff, 1 for Students, 1 for Vendors, and 2 for Koret Patrons may be registered and attached to the applicant's account.
Permits are for the sole use of the person named in the parking permit application. Any attempt to transfer, loan, or resell the permit will result in confiscation of the permit and denies the right to obtain future permits with the University.
PARKING PERMITS DO NOT GUARANTEE YOUR VEHICLE A PARKING SPACE. Please be aware of parking signs indicating which parking spaces/lots/garages you are allowed to park in.
Do not lose your permit. A $50 replacement fee will be in effect for lost, misplaced or stolen permits. If you purchase a new vehicle, please log in to your account and update with your new vehicle information. For the addition of your vehicle you can include the VIN information. If your permit becomes damaged, please contact the Department of Public Safety main office at (415) 422.4222, and we can assist you in getting a new one.
Permits may be returned for a full refund minus 30% administration fee during the first 3 weeks of the semester. No refunds are available after the end of the third week of the semester. All requests must be made to the Operations Manager. The permit and original receipt must be provided. Processing of any refund may take a minimum of ten business days. Any refunds will be processed according to the original method of payment.
Parking is permitted only in areas identified as legal parking spaces by stall lines on both sides or in front of vehicle. Parking in an unidentified, illegal parking space is prohibited.
Disabled spaces marked with blue and white disabled signs are intended only for the use of persons displaying proper DMV AND University permits. Parking, obstructing, or preventing access to a disabled stall is unlawful.
The campus speed limit is 10 miles per hour.
Pedestrians must always be given the right of way on campus.
No parking or stopping in fire lanes, no parking areas, and restricted zones.
Areas not specifically designed for parking shall be considered "No Parking" zones.
University officials may place barriers, traffic control devices or fences at any time for official business. Unauthorized movement or removal is prohibited. This may result in a parking citation or removal from University property.
The Department of Public Safety is authorized to cite, boot, and/or tow, at the owner's expense, any vehicles on University property that violates the University's Parking Rules and Regulations.
USF Parking Permits obtained from sources other than the USF Department of Public Safety are not valid. Fraudulent and illegally obtained parking permits may be confiscated by the Department of Public Safety.
If granted access, your USF ONE CARD will give you access to security gates located at designated areas and parking lots on campus. You will not be allowed access through the security gates without your USF ONE CARD.
All terms and conditions apply for USF ONE CARD usage. ONLY THE CARDHOLDER MAY USE THEIR ONE CARD FOR THEIR VEHICLE TO GAIN ENTRANCE THROUGH ANY SECURITY GATE LOCATED ON CAMPUS.
DPS reserves the right to change permit fees or parking application requirements without notice.
All vendors must park in the Temporary Loading and Unloading Zone spots. Vehicles may be towed or cited at the owner's expense. 
Vehicles may not be stored in campus lots or parked in a lot for more than 72 hours at a time* without the authorization of a campus storage form. Customers found in violation may not be eligible for parking permits in the future.
*Koret patrons may not store their vehicles in the USF lots. Koret parking permits are only valid while using the Koret gym facility, up to a maximum of 4 hours.
Commuter Benefits for Faculty and Staff
All faculty and staff are eligible to set aside pre-tax dollars for qualified commuting expenses up to the monthly IRS limit. Additionally, full-time faculty and staff who do not have a university parking permit and who are not listed on a carpool parking permit may qualify for a USF commuter subsidy contribution of up to $70 per month.
Zipcar
USF is home to six Zipcars located in the Upper Koret lot. Faculty and Staff can join for $25 a year, with no annual fee ($60 savings). To see which driving plans match your needs or to become a USF Zipcar member, visit Zipcar @ USF. 
Guaranteed Trip Home
The Guaranteed Trip Home Program is available to faculty and staff who carpool or take public transit to work. The program is intended for those employees who live within the Bay Area and are forced with an emergency that requires an immediate departure from campus to home.
Safety Escort Service and Night Safety Program
The Department of Student Leadership and Engagement and the Department of Public Safety co-sponsor the USF Shuttle and the Night Safety program. Its primary purpose is to provide reasonable transportation to classes, on-campus locations, and off-campus residences within the boundaries of the service.
The Department of Public Safety operates a safety escort service with the USF campus shuttle, Monday through Sunday. Uniformed Public Safety Officers also assist in providing safety escorts when the USF Shuttle is not in service. The service is intended to give you a safe means of transportation when no other form is available.
ADA Shuttle
The shuttle has a primary responsibility to students, staff, and faculty with disabilities. On a case-by-case basis, students in need of medical assistance may be transported to St. Mary's or Kaiser Hospitals (Geary/Divisadero).