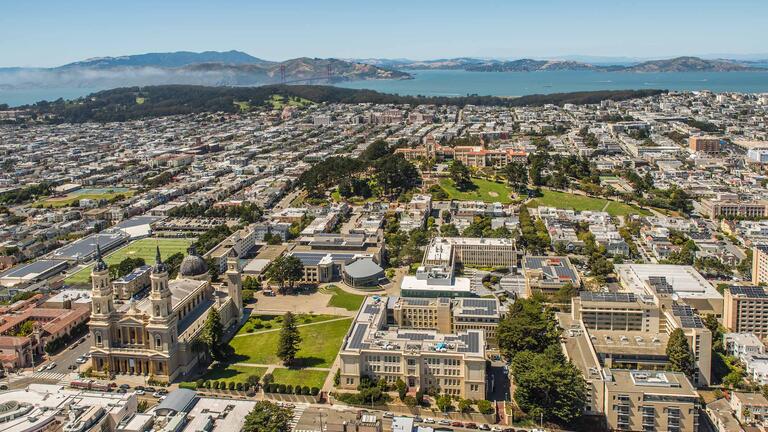 If you can take public transit to USF, we recommend it. But if you choose to drive, here's what you need to know about parking on campus.
Everyday Parking
Visitors have the option to park on Lone Mountain or on Main Campus with a required parking permit. You may purchase daily parking permits at either location.
To reach the Lone Mountain visitor kiosk, enter the Lone Mountain ramp from Turk Street, between Parker Avenue and Temescal Terrace. You'll find the visitor parking kiosk half-way up the ramp. Pull into the left side lane in front of the kiosk while purchasing your permit.
To reach the Main Campus visitor kiosk, enter the driveway from Golden Gate Avenue, between Kittredge Terrace and Roselyn Terrace. You'll find the parking visitor kiosk at the driveway entrance.
You may inquire at either kiosk for visitor-parking spaces located at designated spots around campus.
For additional details on getting to campus, please see our driving directions page and campus map.
Special Event Parking
Visitors attending an Admission presentation and tour should park in the Hayes-Healy Garage off Golden Gate Avenue, between Roselyn Terrace and Tamalpais Terrace, just east of War Memorial Gymnasium.
For other events, you may be directed to the Koret Center Parking Lot. It's on the southwest corner of Turk Street and Parker Avenue. There are two lots with separate entrances: the upper lot is accessed via Parker Avenue. The lower lot is accessed via Turk Street.
Bus Parking
If your group is taking a charter bus to campus, please have your bus driver drop you off in the white zone in front of War Memorial Gym, located at 2335 Golden Gate Avenue (Golden Gate and Roselyn Terrace). This zone is available 24 hours and allows bus drivers to pull off to the side completely, turn off the engine, and unload passengers. The driver should then park the bus at Ocean Beach: Great Highway and Balboa Street. Take Turk Street, which will turn into Balboa Street at Arguello Street. Take Balboa all the way to the ocean.
Students/Faculty/Staff Parking
All university students, faculty, and staff must have a parking permit to park on campus. For detailed instructions on how to obtain a parking permit, please visit the Public Safety parking permit page.
Parking Map