Passion for Justice
Law Grad Leads Effort to Document War Crimes in Ukraine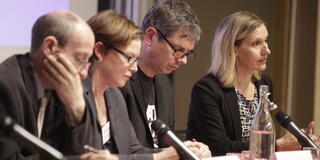 Wendy Betts JD '13 is helping people in Ukraine use their smartphones to document Russian attacks, the first step toward prosecuting war crimes in the courts.
Betts is director of eyeWitness to Atrocities, an organization whose mobile app embeds time, date, and location in users' digital photos and videos. The metadata is one step toward verifying that the footage is genuine, making it admissible as evidence in court.
That's important, because digital video and photos are easy to manipulate and often can't be used to prosecute human rights violations.
"Without information, you're not going to be able to pursue justice," Betts said.
eyeWitness has seen an uptick in its app registrations during the attacks in Ukraine, Betts said. "Now every Ukrainian is a witness to something." 
An App for Activists
The eyeWitness app is used by human rights activists around the world, Betts said. More than 16,000 photos and videos have been certified since the app was developed in 2015.
All photos and videos recorded with the eyeWitness app are sent to an encrypted server where they cannot be edited or otherwise manipulated. Then eyeWitness catalogs the recordings and places them into dossiers for secure submission to investigators including the United Nations and the International Criminal Court.
eyeWitness has provided authenticated footage from Ukraine, where Russian artillery attacks have left millions displaced and homeless; from the Democratic Republic of Congo, where two militia leaders were convicted of crimes against humanity in 2018; and from Palestine, where alleged war crimes have taken place.
"Wendy has dedicated her career to the protection and sanctity of human rights," said Peter Jan Honigsberg, one of Betts' professors at USF Law. "Her inspiring leadership with eyeWitness has led to the documentation of human rights violations in countries around the globe. Now she is making an enormous contribution to documenting human rights abuses and violence in Ukraine."
The USF Effect
Betts credits her USF education with setting her up to lead eyeWitness to Atrocities.
After her first year in law school, she did a summer internship in London with the International Bar Association, which founded eyeWitness, to work on the verification process. She continued the work part-time during her second and third years at USF.
The day after she passed the bar exam, she became director of eyeWitness to Atrocities.
"It's been a great opportunity to combine all the threads I've pursued and add the legal influence and expertise I got from USF to complete this picture," Betts said.
She appreciates that USF urges its students to have an impact, she added.
"It's easy to lose sight of what you're doing and feel like it's not enough. But seeing what's happening right now in Ukraine … it feels right to be where I am."