Passion for Justice
Welcome Back, Erin O'Donnell 
Alumna returns to USF Law with love in her heart — and a mission on her mind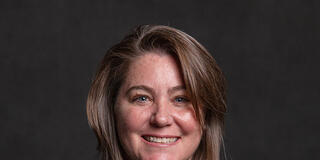 Erin O'Donnell '00 was born in San Francisco. She attended USF School of Law in the heart of San Francisco. She has lived in San Francisco most of her life. And, 11 years ago, when she was in labor with her son, she drove across the Bay Bridge so that he could have a San Francisco birth certificate.
"Yes, you could say I love the City," she said.
This love remains intact and on display today, nearly two years after O'Donnell returned to USF as an adjunct professor in the Criminal and Juvenile Justice Law Clinic. After graduating from USF Law, she practiced as a criminal defense attorney and later volunteered in the law clinic. O'Donnell says she felt compelled to join the USF faculty at what she deems an inflection point in the school's history.
"Professor Lara Bazelon had recently taken charge of the clinic and had a very clear idea of where she wanted to take it," said O'Donnell. "And Dean Freiwald had been named interim dean, the school's first woman in that position. It felt like the dawn of a new era and I wanted to be a part of it."
Making Her Mark
In her time with the clinic, O'Donnell has made her mark. Her students take on challenging, often desperate situations that touch on homelessness, mental health, and a range of other societal issues.
"I teach students that law is not just about the courtroom," she said. "It's managing these people's lives, and the mental illness, making sure they have proper services. Sometimes the client is very rude, screaming and yelling in the courtroom, at us, at students. Teaching the students how to manage it, how not to take it personally, and remain a strong legal advocate - this is the life of a public defender."
USF's immersive, deep dive into the practice of law resonates with students. Clinic applications have increased over the past year and more USF Law applicants are citing clinics as a key reason to enroll in the school.
Doing the Work
"It's great going into the courtrooms and getting students in there," said O'Donnell. "We take on drug cases, domestic violence, hit and run, battery on police officers, all different kinds of cases. So the students get a hands-on ability to feel like a lawyer."
The Criminal and Juvenile Justice Law Clinic enables 2Ls and 3Ls to do the work of trial attorneys — client and witness interviews, investigations, court appearances, client counseling, motions practice, suppression hearings, trials, appeals, and writs of mandate.
"We're thrilled to have Professor O'Donnell in our clinic and in the courtrooms," said Dean Susan Freiwald. "Her combination of grit and know-how resonates with both students and clients, and I appreciate her dedication to producing strong, ethical lawyers."