Equipped to Lead and Succeed
USF Students Win Prestigious Labor Law Fellowship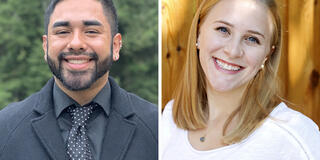 Renato Flores '22 and Clara Murphy '22 have been awarded the prestigious Peggy Browning Fellowship, giving them the opportunity to spend ten weeks this summer getting hands-on experience in public interest labor law in San Francisco.
Flores and Murphy were among just 80 students across the nation selected for the fellowship, which drew nearly 700 applicants. The fellowship is awarded to students who have demonstrated a commitment to workers' rights through educational, work, and volunteer experience.
Starting June 1, Flores will serve as a Peggy Browning Fellow at Legal Aid at Work, a non-profit organization that provides legal services to low-income clients. He spent this past semester working with that organization as a volunteer.
Flores said this experience opened his eyes to the assistance workers need to understand their rights in the workplace, such as what they can request from their employers during the pandemic.
"Talking to clients on a weekly basis, it was really shocking to hear how much they were in fear in the workplace," Flores said. "I think now is one of the best times to get into the field of labor and employment law, and this fellowship really helps to offset the cost of doing important public interest work."
He hopes his fluency in Spanish will help him establish good rapport with monolingual Spanish speakers, who often face language barriers with management and may be undocumented workers.
"There's often conversations that they're not willing to have with their employers because they're afraid of retaliation," Flores said. "Monolingual Spanish speakers are often new to this country, and they don't understand that employment laws apply to them just as forcefully as they apply to anyone else."
Murphy, meanwhile, will work with Neyhart, Anderson, Flynn & Grosboll, a firm that focuses on union-side labor law. She noted that she was impressed with the firm's mission to protect the health of union members in the midst of the COVID-19 pandemic.
"I really liked their focus on representing union-side labor clients," Murphy said. "As a lawyer I want to work for a purpose that's bigger than myself."
The students' intersecting paths will continue through the fall, when they will also be co-presidents of the Labor and Employment Law Student Association.
"I'm so pleased that the Peggy Browning Fellowship Program recognized the talents of two of our rising stars in labor and employment law," said Dean Susan Freiwald. "We are looking forward to hearing about Renato and Clara's experiences this summer working to support workers' rights."
Murphy, who is also social media chair of the Environmental Law Students Association, graduated from UC Berkeley with a Bachelor of Science in Society & Environment and from the University of Missouri with a Master of Arts in Secondary Education. While pursuing the latter degree, she worked in a non-unionized teaching position with Teach for America in Kansas City. There, she discovered her interest in labor and employment law when she recognized the disparities between unionized and non-unionized workers.
Flores is originally from Los Angeles and earned his undergraduate degree from UC Santa Cruz, where he interned for California Rural Legal Assistance. Next semester, he will serve as the executive editor of the forthcoming Vol. 56 of the USF Law Review and as Vice President of the Latinx Law Students Association.
The Peggy Browning Fellowship Program is awarded by the Peggy Browning Fund, a not-for-profit organization established in memory of prominent labor attorney Margaret A. Browning.