Giving
The Gift of Access: Supporting USF Law Students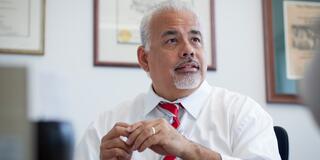 Determination. In one word, that is how Sal Torres JD '88 defines the experiences that shaped him. As a lawyer, father, brother, husband, student, and former Daly City mayor, one thing has remained central: his determination to ignite lasting change.
"I grew up at a time when there were very few leaders of my race, my culture. There were some, but not a lot," Torres said. "It was always about trying to become a leader in whatever I was doing, in my classroom, in my community, in my work. It was about being a thoughtful leader, somebody that influences positive change, somebody that motivates people to do better than what they are doing."
For Torres and his siblings, access to education was not guaranteed. It took hard work, perseverance, and commitment — as well as steadfast encouragement from his parents — to build a better life.
Generations of Gratitude
Cesar and Graciela Torres came to America from Peru with very little. His father worked a blue-collar job at a small electronics company, and his mother taught herself to speak English while watching episodes of "Password" a game show in the 60s and 70s. Graciela later became a preschool teaching assistant. Eventually, the couple was able to achieve a piece of the American Dream: home ownership and raising their boys to go to college.
"My father and mother always told my brothers and me that education was the key to getting out of poverty, the key to going from the have-nots to the haves," he said.
Although money was scarce, the value of education was deeply instilled in Torres. He and his brother started a lawn mowing business, despite Torres' terrible allergies, and they used the money to pay for their education at Catholic high schools. Later, with financial aid supplemented by working multiple jobs, Torres paid for his undergraduate education at UCLA and his law school education at USF.
"All the while, my parents always gave me what they could, whether it was $10, $100, or $1,000. Whatever they could spare, they would give me," he said. "Never ever did they stop the encouragement, the kindness, the idea that if I just kept at it and kept the struggle up I would make a better life for myself and for my family."
Torres, now senior director of the commercial contacts group at Equinix and the president-elect of the USF School of Law Board of Governors, has always strived to find a way to pay forward the gratitude and encouragement his parents showed him.
The Price Tag for Access
When Torres started law school, there were six other Latino students in his cohort. Some struggled to find the financial means to continue. One of his peers only needed $5,000 to continue to the next semester. But, in the financial struggle, she decided to leave school.
That classmate's $5,000 decision stuck with him. He felt USF's School of Law was a place where students of all backgrounds could thrive and wanted to make access to the education he valued so much possible for generations to come.  
Torres and his wife, Leslie Torres '88, established the Cesar and Graciela Torres Memorial Scholarship, in honor of his parents, to continue their legacy of support for future Latino law students. Their $60,000 gift was matched by chairman of the USF Board of Trustees Steve Hamill JD '78 and his wife, Jan. The endowed fund will provide one student each year a scholarship of $5,000 — the amount that proved to be a stumbling block for his former classmate.
"If that's all it would take to keep someone [in school], we've got to have a way to make that happen for someone that needs it," he said.
Susan Freiwald, interim dean of the School of Law, said the couple's gift will help many other students.
"We are so grateful for this generous gift from Sal and Leslie Torres that will help us expand access to a USF legal education. Endowment gifts for scholarships from wonderfully committed alumni like Sal support our law students for generations to come. Their gift will help promising Latino students who may otherwise have lacked the resources to join a profession that has so far under-represented them."
Help increase access to quality education and change lives by giving to the School of Law
This gift was made in support of Changing the World from Here: Campaign for the University of San Francisco.