Engaged Learning
Superior Court Judge Joins Adjunct Faculty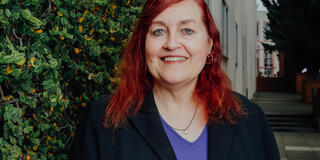 Alameda County Superior Court Judge Victoria Kolakowski is more than qualified to teach a course on equal rights and religious freedom. Kolakowski, the first transgender judge in California and a practicing Christian, recently joined the USF Law faculty as an adjunct professor.
"I'm an LGBTQ+ person and a person of faith," she said. "I bring both of those things to the classroom, in equal measure."
This summer, in a class called Equality and Religious Freedom, Kolakowski and her students are exploring the various ways that religious expression can suppress equality — or enable it. In each discussion, she said, she tries to dispel the notion that "equality rights are good and religion is bad. It doesn't help to think in this way. It's too simplistic and it's not constructive."
Kolakowski knows what she is talking about. For years she has studied the nuances of gender equity and the complexities of conflict. She visited France on behalf of the U.S. State Department to talk about the Stonewall riots and issues affecting the transgender community. The U.S. embassy in India invited her to speak with local leaders about LGBTQ+ inclusion. She is a keynote speaker at LGBTQ+ pride events and legal events all over the country.
She also mentors transgender law students. "I'm happy to mentor young people," she said. "I didn't have any mentors when I was coming up. The problem with being a trailblazer is you have no one before you."
Her mission at USF?
"I hope to help mediate the culture wars. How can we create a world where we allow everyone to be themselves without harming each other? How do we resolve issues with respect? The politicization of everything makes it hard to have meaningful dialogue about anything, but we need that dialogue."
Her advice to USF law students?
"Think beyond your own opinions and experiences. Put yourself in the minds of people you don't agree with." She said that not everyone who disagrees with her is a transphobe.
"We live in a world of gray," Kolakowski added. "If you can maneuver in the gray, and if you can truly see the world through the eyes of other people, you'll be a better lawyer. You'll be a better advocate. You'll dream up better solutions. I'm proud to be a part of a law school that seeks solutions."