Engaged Learning
The Seven Habits of Highly Successful Lawyers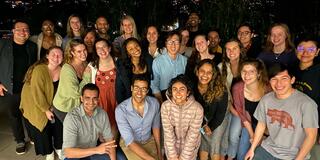 What are the habits shared by some of USF Law's most distinguished and successful alumni? Associate Professor Katie Moran '16 and Adjunct Professor Jerome Hawkins '16 have identified seven.
This past spring, Moran, co-director of USF's Academic and Bar Exam Success Program (ABES) and Hawkins, a trial lawyer and civil litigator, led a weekly series for law students called "The Seven Habits of Highly Successful Lawyers."
In planning the series, Moran said: "Our goal is to help every student develop the skills and mindsets to practice law at a high level. Because being a great lawyer and a great human have so much in common, those same habits carry over – they increase students' effectiveness at preparing for the bar exam and law school finals."
Hawkins added: "Law school isn't just about getting good grades. It's about building the foundation for a successful career by fostering strong study, work, and life habits; making professional connections; and living in integrity with one's values."
Each session welcomed a different guest lecturer, including several renowned USF Law alumni, who shared with students practical strategies for tackling a habit they believe is crucial for a thriving legal career.
California Supreme Court Associate Justice Martin J. Jenkins '80 kicked off the series and inspired students with his personal journey to the state's highest court. Jenkins offered students sage advice on living your values, saying "if you live a life of the mind where you are curious and whole, you develop common sense and judgement; there is never a better time to start trusting that than now."
The series also featured guest lectures from Thomas J. Brandi '72, Doris Cheng '98, Adjunct Professor Sasha M. Cummings, Cecilia Fierro '15, adjunct professor Justice Teri L. Jackson, and Lana Persaud '18.