Faculty & Staff Achievements
Scholarship for Impact
Prof. Lara Bazelon is appointed associate dean for faculty scholarship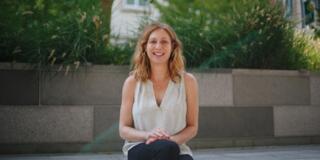 Professor Lara Bazelon has been named the School of Law's new associate dean for faculty scholarship. She will step into the position on August 1, where she will help support and optimize the impact of faculty research and writing, while also creating programs to foster a vibrant intellectual community at the School of Law. Prof. Alice Kaswan has served in the role for the past three years.
Bazelon, who is known as much for her searing op-eds in publications like The Atlantic and The New York Times as for her deep research into topics like prosecutorial misconduct, says she will bring to the role an expertise in creating scholarship that has impact beyond the legal community.
"I've long been fascinated with USF's commitment to excellence in scholarship with practical impact," Bazelon says. "The kind of scholarship I produce is really geared toward: 'How can we move the development of the law forward? How can we make the practice of law more fair?'"
In particular, Bazelon says she's looking to resume the School of Law's monthly scholarly lunches in-person, which have taken place virtually over Zoom since the start of the COVID-19 pandemic. Those lunches, she notes, are great ways for professors to refine their thinking and find placement for their articles while fostering a robust exchange of ideas, and she believes face-to-face time is crucial for creating community among faculty.
She also is hoping to create workshops that can help faculty transform scholarly articles into blogs, op-eds and other digestible formats. In her own work, she regularly brings articles of up to 40,000 words down to 1,000 words or less — a practice that forces her to boil down her idea to reach a completely different audience.
"I think it's important to reach other non-lawyers with our writing too," says Bazelon. "It's my belief that people in the academy have an obligation to try to reach as many people as possible with our ideas."
Kaswan said Bazelon is a "prolific scholar" who is a role model for crafting legal writing that goes beyond the university hall.
"I do think that academics, especially academics who want to be public intellectuals, could do more to translate our foundational work into the forums and publishing venues that are going to be more accessible," Kaswan says. "And Lara is brilliant at that."
In addition to her research and writing work, Bazelon is the Director of the Criminal & Juvenile Justice Clinic and the Racial Justice Clinic, as well as the Phillip and Muriel C. Barnett Chair in Trial Advocacy. She also chairs the San Francisco District Attorney's Innocence Commission.
Bazelon says that scholarly writing makes her both a better lawyer and professor.
"I like digging deep into a topic I'm already interested in and learning all the nuances and twists and turns of it," Bazelon says. "Like many people, writing is very difficult for me. I have such a strange relationship to it because I feel a compulsive need to do it, and yet it's extremely hard. It's kind of like exercise, I have to force myself and then afterwards I feel so much better that I did."