Equipped to Lead and Succeed
One to Watch: Alegna Gómez '22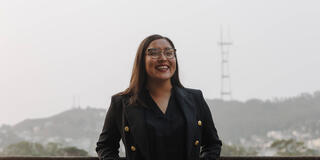 As an eighth grader, Alegna Gómez '22 witnessed her aunt unsuccessfully pursue the adoption of a child.
An immigrant from Central America, Gómez's aunt did not have the financial resources for legal representation, and the lack of Spanish-speaking attorneys to assist in navigating the process made the experience difficult and heartbreaking. This early memory solidified Gómez's resolve to go to law school and pursue a JD, with the goal of giving back to her community.
An Academic Support Program (ASP) student in her 1L year, Gómez's involvement in law school activities includes serving as an ASP torts tutor during her second year, as co-president of the Latinx Law Students Association, and this academic year, as editor-in-chief of the USF Law Review (Vol. 56, 2021–present). This past summer, Gómez externed for two federal judges at the U.S. Bankruptcy Court of the Northern District of California and was recognized as a 2021 Intellectual Property Law Institute Scholar by the Hispanic National Bar Association's Vision in Action Fund.
Who or what most influenced your path to law school?
I knew I wanted to become an attorney since I was in middle school. As a first-generation daughter of Central American immigrants, I know first-hand the need for more Spanish-speaking attorneys who provide affordable legal services. My family taught me to always think of ways to give back to my community, and my passion for problem solving and speaking up for others made me think that the legal field was a good fit. I want to equip myself with the legal knowledge to uplift my community and to help my community learn how to navigate the legal system.
How do you plan to use your law degree?
My goal is to support artists, entrepreneurs, and businesses with their intellectual property matters, to help them protect their legal rights as creators, and to capitalize on their own creativity. As a board member of Tía Chucha's Centro Cultural, a cultural arts community center in Southern California, I recognized the lack of legal resources available for talented local community artists and entrepreneurs.
What is one of your most memorable experiences at USF?
One of my most memorable experiences at USF was as a student-clinician in the Internet and Intellectual Property Justice Clinic. The client was a small business called "MIGHTY PETZ," and I worked with them to obtain a trademark registration by overcoming a Section2(d) Refusal for Likelihood of Confusion, which allowed the business to benefit from Amazon's Brand Registry program. Ultimately, the business' sales increased significantly thanks to the work I undertook, and the client was so thankful for my efforts. It's incredibly rewarding to have had a direct impact on our clinet's business, and to have your work produce real change in someone's life meant so much to me.
Which class has challenged you the most?
Professor Garvey's 1L Contracts course was one of the most challenging classes. Professor Garvey uses the Socratic method as a means of making students more critical of the law. He pushed us to think of ways to apply the rule of law from one case to a different scenario. My experiences in the class encouraged me to think like a lawyer, to respond on the spot, and to develop my critical thinking skills.
What advice would you give new law students?
Never underestimate your own potential, and do not be afraid to take risks. I have been able to grow the most, professionally and personally, when I challenge myself and take an opportunity that may seem scary. You cannot allow the fear of rejection to prevent you from exploring new opportunities as a law student.