Engaged Learning
USF Leads Effort to Document Jewish History in the Bay Area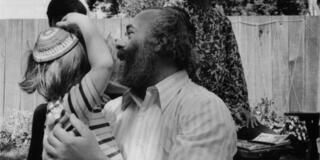 "Mapping Jewish San Francisco," a new digital exhibit by USF's Swig Program in Jewish Studies and Social Justice, tells stories that might otherwise be lost.
University faculty, undergraduate and graduate students, and community leaders spent five years researching and gathering stories of the people and institutions that constitute the Jewish San Francisco Bay Area in "Mapping Jewish San Francisco."
It is important for USF, a Jesuit university, to support projects like this, said Oren Kroll-Zeldin, assistant director of the Swig Program in Jewish Studies and Social Justice and assistant professor of theology and religious studies.
"USF has long been on the forefront of including Jews, as a religious and cultural minority," Kroll-Zeldin said. "Interfaith and multifaith inclusion is an integral part of the Ignatian approach, as is embracing cultural and religious diversity."
With the Swig program, USF created the first endowed Jewish studies program at a Catholic university. It is also the first program to link Jewish studies with social justice, said Kroll-Zeldin.
Student Research
Several students worked on the exhibit, including Megan Shirron '24, a finance major with a minor in Jewish studies and social justice (JSSJ). She transcribed, edited, and cataloged interviews with Karaite Jews as part of the project's "Out of Egypt" exhibition. Karaite Jews believe it is the personal responsibility of individual Jews to study the Torah and decide its correct meaning.
"My major and minor are very different, so being able to be involved in this project has helped me achieve an overall diverse education here at USF, within both business and the humanities," Shirron said. "Having the opportunity to work on this project and be involved in the JSSJ program is helping me learn how to change the world."
Zoe Bishop '22, a critical diversity studies major with a Jewish studies and social justice minor, also worked on the exhibit. She pulled clips from video interviews with Karaite Jews and helped put the clips on the website. 
"This is a part of Jewish and Bay Area history that for so long has gone untold," Bishop said. "It was a privilege to contribute to the preservation of this history."
Community Engagement
The project was led by several USF faculty members. Kroll-Zeldin was in charge of the research on an exhibition called "The House of Love and Prayer," about a Jewish synagogue and religious commune in San Francisco in the 1960s and 1970s. Professor Aaron J. Hahn Tapper directed the "Out of Egypt" exhibition and said the video interviews are invaluable because so many of the Karaites who immigrated to the United States have died in recent years.

A next exhibition is being led by Camille Angel, USF's rabbi in residence, who is working with students to collect stories of Jewish LGBTQ life in San Francisco.
The community's response to the exhibit has been strong, Kroll-Zeldin said.
"Many people have come forward with stories of their own and their experiences with the subject that we published. This led to renewed conversations, the sharing of stories and photographs, and learning more about the subject at hand. When we started the project we envisioned the possible communal element of it, but we are surprised and thrilled by how our project is bringing people together."