Campus Life
CNN Anchor: 'Stand up' for Truth and Decency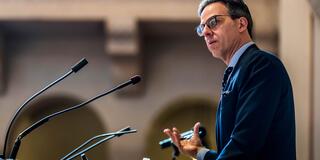 Former President Barack Obama wasn't being honest when he said in the run-up to his landmark health care law that if you like your doctor, you can keep your doctor. And Hillary Clinton falsely claimed that the FBI director said her answers were "truthful" in an investigation about her emails. These are two examples CNN anchor Jake Tapper cited on April 22 when he told an audience of more than 1,500 USFers and community members, "Every politician lies."
"But," continued Tapper, who is known for doggedly questioning politicians from both sides of the aisle during his shows The Lead With Jake Tapper and State of the Union, "the sheer number of falsehoods and lies coming from [the Trump] White House is staggering." 
In an era in which the U.S. president regularly makes false statements, vilifies the press for pointing it out, and mocks war heroes and disabled people, journalists and the public must stand up for truth and decency, said Tapper.
Tapper spoke at Temple Emanu-El in San Francisco for a USF event commemorating the 40th anniversary of the SWIG Program in Jewish Studies and Social Justice, directed by his brother, Professor Aaron J. Hahn Tapper.
"One component of changing the world from here, no doubt, is generating public awareness about issues and in this process speaking truth to power," said Aaron Hahn Tapper.
Accountability isn't red or blue
A day earlier President Donald Trump tweeted that a source in an article in The New York Times was a "drunk/drugged up loser."
Jake Tapper said that Trump's comment referencing addiction, in light of the nation battling a deadly opioid epidemic, is "empirically indecent," and that any journalist who "pretends otherwise is doing a disservice to the truth."
Though that line drew applause, Tapper — whose speech was titled "Speaking Truth to Power" — warned that it's vital to hold all leaders accountable, even those you're politically aligned with.
"It's a time for all of us in the Fourth Estate and indeed all of us in the United States of America to stand up for what we know is right," Tapper said. "If standing up for truth and decency is speaking truth to power, then so be it — but let's make sure that we speak it consistently to everyone in power."
Know someone with a powerful USF story? Let us know! usfnews@usfca.edu | Twitter @usfcanews