Engaged Learning
'Love the Process': Tyler Alsey '22 Excels in Two Summer Externships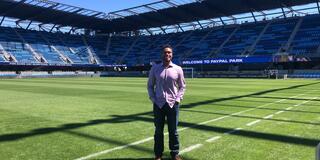 This summer, Tyler Alsey '22 took two additional steps toward his goal of becoming a legal counsel to professional sports teams.
Alsey worked as a legal extern for both the Oakland A's and for Cleveland Scott York, a London-based intellectual property firm.
While those may seem like two very different realms to pursue at the same time, Alsey says the opportunities meshed perfectly with the vision he has for his post-law school career.
"Having the experience and knowledge to protect brands, logos, and a team's identity is where I want to be," Alsey says. "Now I think I'm in the position to have a crack at it."
Alsey, who is president of USF's Sports & Entertainment Law Student Association, spent the entire summer working with the Athletics under mentor Rhean Fajardo '03, the Athletics' associate general counsel. In that role, he helped draft and review sponsorship agreements as well as negotiate settlements and counteroffers.
"No day was the same." Alsey said. "I touched so many different areas of the law, which is one of the things that I really enjoyed."
And it was through USF Law's International Externships Program that, midway through the summer, he got the opportunity to work remotely with Cleveland Scott York while continuing with the A's.
Externships Program Director Anne Sidwell noted that "Tyler had two really prestigious opportunities that fit his interests, and I encouraged him to do both of them because I knew he could do it."
Loving the process
Alsey, who played football as a defensive tackle at Cal Poly San Luis Obispo, always knew that his life would involve sports. He originally came to law school thinking he wanted to become a sports agent, but soon realized that supporting the game rather than a player fueled his passion.
Alsey credits his football career with teaching him "every life skill under the sun.".
"It teaches you teamwork, hard work, how to face adversity, how to overcome challenges and failure," Alsey says. "But the main thing I took away from playing football was to fall in love with the process. We only played 10 or 11 games in a season, but you train year-round for those games. If you only love game day, then you're going to be in trouble."